Blog
Storytelling through music
Antonija's Stories
Here I will share stories behind my music. I will be posting some of my memories, other artists' music or just pictures that touch me deeply. Follow my blog to stay updated about any tour dates and new releases.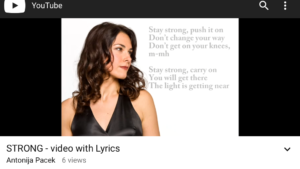 Check out the new lyric video for dance song Strong. The video was produced by Roberto Bedross. Lyrics and music by Antonija Pacek, production by Roberto Bedross, featuring Jade Davies. Strong was distributed by Spinnup on Aug. 6th, 2018.
The song can be purchased on iTunes and Amazon.