Press Center
Connecting soul to soul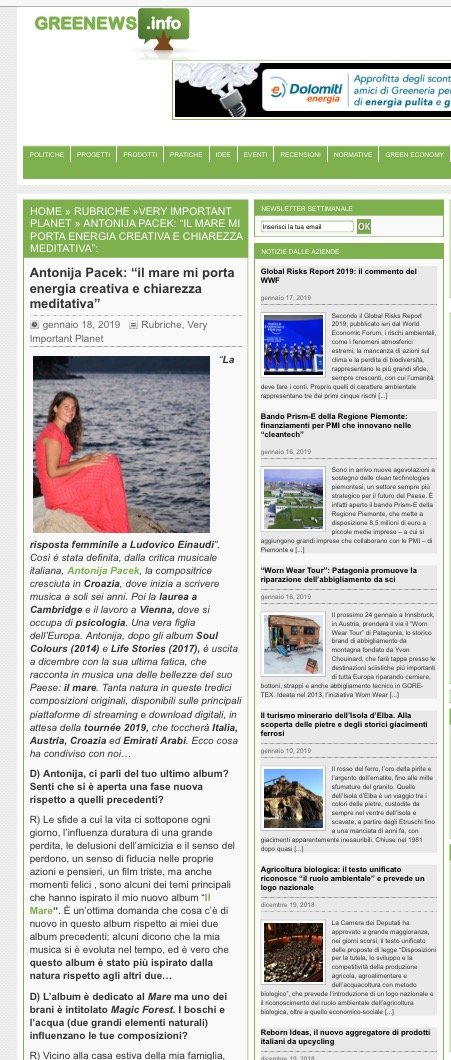 Interview in Greenews, published on Jan. 18th, 2019, written by Gian Basilio Nieddu
Antonija Pacek: "The sea brings me creative energy and meditative clarity"
"The female response to Ludovico Einaudi". This is how Italian music critics describe Antonija Pacek, the composer who grew up in Croatia, where she started writing music at the age of six. Then she graduated at the University of Cambridge and worked in Vienna in field of psychology. She is a true daughter of Europe. Antonija, after the albums "Soul Colors" (2014) and "Life Stories" (2017), came out in December with her latest work, which tells about the beauties of her country: the sea. So much nature in these thirteen original compositions, available on the major streaming and digital download platforms, awaiting the 2019 tour, which will touch Italy, Austria, Croatia and the United Arab Emirates. Here's what she shared with us …
Q) Antonija, can you tell us about your latest album? Do you feel that a new phase has opened up compared to the previous albums?
A) The challenges to which life submits to us every day, the lasting influence of a great loss, the disappointments of friendship and the sense of forgiveness, a sense of trust in one's actions and thoughts, a sad film, but also happy moments, are some of the main themes that inspired my new album "Il Mare". It's a good question what's new in this album compared to my two previous albums: some say my music has evolved over time, and it's true that this album was more inspired by nature than the other two …
Q) The album is dedicated to the Sea but one of the songs is titled Magic Forest. Do woods and water (two great natural elements) influence your compositions?
A) Near the summer house of my family, which is located by the sea, there is a large and beautiful forest. The whole island is surrounded by an intense and beautiful deep blue sea. For at least two months, during the year, my gaze dwells on these incredible landscapes and on nature. Above all, the sea brings me a meditative clarity and a creative energy. Being connected to nature inspires me and thanks to this feeling I wrote many of my songs.
Q) Croatia is in fact a tourist destination known primarily for its natural beauties …
A) Yes, Croatia is surrounded by untouched nature, in particular some destinations close to the Adriatic Sea. The water is very clear and is not polluted near the islands. This is very attractive for those tourists looking for quiet places and for those who love exploring nature. However the "authentic" music of Croatia have limited influence on my musical expression. I have lived a lot longer in Vienna than in Croatia …
Q) You are now an internationally known musician, but you also do a very demanding job: you deal with human development and psychology. How do you manage to reconcile these two spheres?
A) I like to teach psychology and I have done it for the last 22 years, but when I compose I feel like I'm "transported" and so I often feel during the concerts. The music and the composition seem therapeutic to me. I hope that my audience can also feel a kind of therapy by awakening some of their emotions that could emerge while listening to my melodies. It turns out to me – I was told by my audience – that some would have held the hand of their friend in my concerts, and that their thoughts would have fluctuated as if being in "another world" … Some friends have also confessed to me that they have been working through some unfinished stories of theirs while listening to my melodies, feeling completely inspired … Some come to me to thank me for the emotions they experienced during the concert, or they hug me to thank me, even if I've never seen them before. This is truly unimaginable and makes those precious and priceless moments. Here is the best connection between my activity as a psychologist and as a composer: the emotions in my music seem to be therapeutic for my listeners …
Q) What diagnosis would you make for the Planet? What are the main environmental problems that you should solve?
A) Global warming and melting glaciers on both poles of the Earth, but also the plastic that floats in the sea and then is pushed ashore on beaches, deforestation, oil spills into the sea. They are all, certainly, great dangers to nature!
Q) And how do you try to help improve this situation?
A) In my daily life I divide all the trash from my family and teach my children to do the same. If I see rubbish on the streets or near some beach, I pick it up and throw it in the bins. I also drive a hybrid car to pollute less …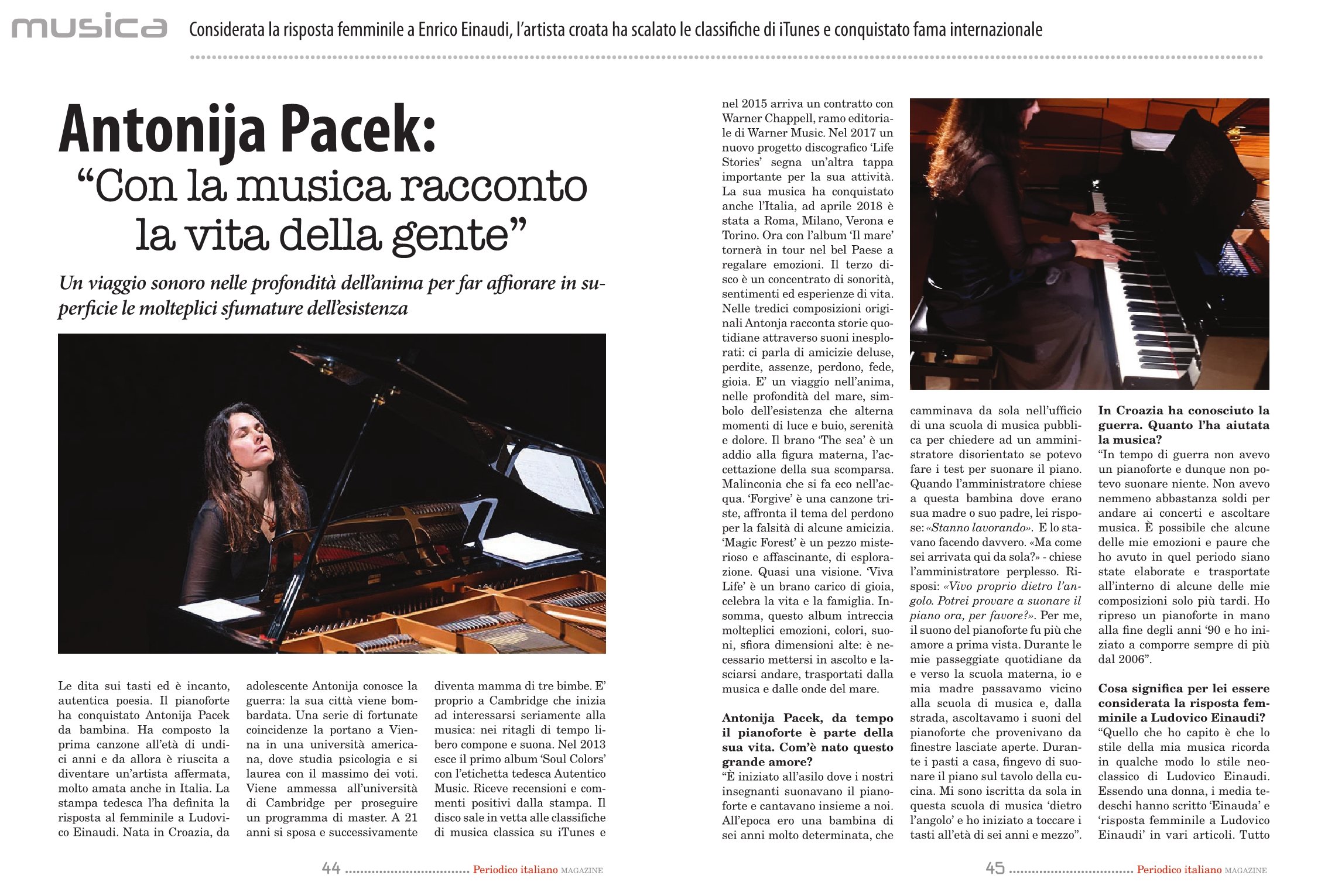 Periodico Italiano Magazine, p.44-46, published: in Jan. 2019 issue
Written by Michaela Zanarella
Top subtitle: Considered the female response to Einaudi, the Croatian artist has climbed the rankings of iTunes and gained international fame
Antonija Pacek: "Through the music I speak about people's lives"
A sound journey into the depths of the soul to bring out the many nuances of existence on the surface
The fingers on the keys, and there is an enchanting, authentic poetry. The piano has conquered Antonija Pacek as a child. She composed the first song at the age of eleven and since then she has managed to become a well-known artist, much loved also in Italy. The German press defined her as the female response to Ludovico Einaudi. Born in Croatia, as a teenager Antonija got to experience the war: her city was bombed. A series of lucky coincidences brought her to Vienna to an American university, where she studied psychology and graduated with honours. She was admitted to the University of Cambridge to take a master's program. At the age of 21, she married and later became a mother of three girls. It is precisely in Cambridge that she began to take a serious interest in music: in her spare time she composed and played. In 2013 she released the first album "Soul Colors" with the German label Autentico Music. She received positive reviews and comments from the press. The album climbed to the top of the classical music charts on iTunes (in Germany) and in 2015 came a contract from Warner Chappell, a publishing branch of Warner Music. In 2017 a new project "Life Stories" marks another important milestone for her activities.
Her music also conquered Italy, in April 2018, as she was playing in Rome, Milan, Verona and Turin. Now with the album "IL MARE" she will return to tour in our beautiful country to share her emotions with us. The third album is rich with sound, feelings and life experiences. In the thirteen original compositions, Antonija tells everyday stories through unexplored sounds: she speaks about disappointments with friendships, losses, forgiveness, faith, joy. It is a journey into the soul, into the depths of the sea – a symbol of existence that alternates mountains of light and darkness, serenity and pain. The song 'The Sea' is a farewell to her mother figure, the acceptance of her death. Melancholy that is echoed in the water. 'Forgive' is a sad song, tackles the theme of forgiveness for the untruthfulness of some friendships. 'Magic Forest' is a mysterious and fascinating piece of exploration. Almost a vision. 'Viva Life' signifies a song full of joy, celebrates life and the family. In short, this album intertwines many emotions, colours, sounds, close to divine: it is necessary to listen and let go, to be transported by music and the waves of the sea.
Antonija Pacek, for a long time the piano was part of your life. How this great love was born?
It started in my kindergarten where our teachers played the piano and sang with us. At the time I was a very determined six-year-old girl who walked alone in the office of a public music school to ask a bewildered administrator if I could do the tests to play the piano. When the administrator asked this child where were her mother or father, she replied: "They are working". And they were really doing it. "But how did you get here alone?" asked the perplexed administrator. I replied: "I live just around the corner, could I try playing the piano now, please?" For me, the sound of the piano was more than love at first sight. During my daily walks to and from the school, my mother and I would pass by the music school and, from the street, listen to the sounds of the piano coming from windows left open. During meals at home, I pretended to play the piano on the kitchen table. I enrolled myself in this school of music "around the corner" and I began with my piano lessons at the age of six and a half years.
In Croatia you experienced the war. How much did the music help you?
During the wartime I did not have a piano so I could not play anything. I did not even have enough money to go to concerts and listen to music. It is possible that some of my emotions and fears that I had at that time were processed and transported within some of my compositions only later. I got again my own piano in the late 90s and I started to compose more and more from 2006 onwards.
What does it mean for you to be considered the female response to Ludovico Einaudi?
What I understood is that the style of my music resembles the neoclassical style of Ludovico Einaudi. Being a woman, the German media named me "Einauda" and wrote "the female answer to Ludovico Einaudi" in various articles. All I can say is that I am very honoured by this comparison. I think that Mr. Einaudi and I have each our own "writing" in the music we create, but that the general style or the same genre is what connects our music. It seems to be a cinematic music – a fusion of classical music, pop and maybe soft jazz.
From your "Soul Colours" record release to the last "IL MARE"-is there a link between the two albums?
The great link between both albums, including "Life Stories", is to have a strong emotional connotation in every composition. The music is sincere and comes from the depths of my soul. I'm always aware of what stories and emotions are in it, so I find it easy to name my songs every time I create them.
Friendship disappointment, faith, forgiveness, joy, the challenges of life: there is so much in this project. How would you define it?
Human stories through music. I tell our stories through a simplistic and humane approach. Each album is a mirror of our life, the stories we face every day. Through music I express stories of pain, faith, disappointments in friendship, forgiveness, joyous moments for which it is worth living.
Your music is profound, poetic, multicultural. In your opinion, is music a dialogue?
Thank you. Yes, it is an emotional dialogue. If the music manages to transpose you to another place, to help you work through some moments you didn't have time to process, if it touches your heart and moves you to tears, if it helps you feel a sudden burst of joy and happiness, then it is a dialogue in which the emotions of an artist are sent to the public and they feel something in return.
You are often in Italy performing your concerts. But how do you see the current political situation here?
I love the Italian public, their temperament and the incredible sense for aesthetics. I also love the Italian cities full of history and beautiful buildings, but also its nature and its landscapes. Since I am a musician and a psychologist at heart, I do not feel competent enough to comment on the current political situation in the country. My husband would be an expert for this and would be able to handle these questions in an educated way.
Being a woman, a mother and an artist. How do you manage to combine all these commitments?
Because I love so much my family and to compose, I find the way to be fully present for my family and for my music. Sometimes I sleep too little or I do not watch TV or have not enough time to read newspapers (that is why your previous questions is not easy for me to answer). I need to prioritize around my most important values in life. Then everything fits into its place. Thank you for great questions.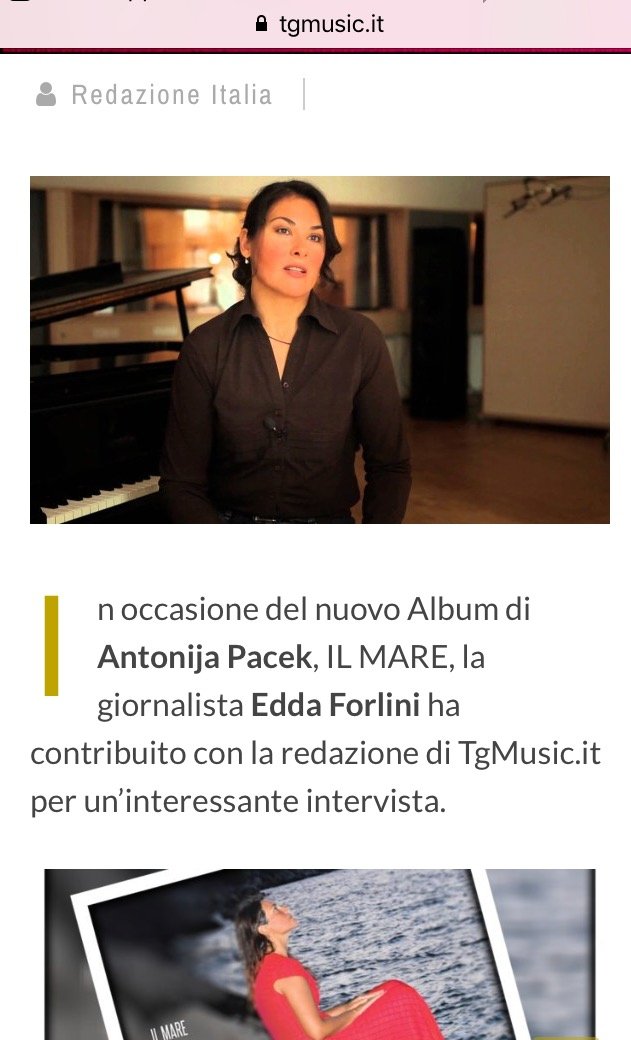 An article published on Dec. 27th, 2018 in TG Music, Italy, written by Edda Forlini
"An Interview with Antonija Pacek, Composer of Soundtracks"
As the new album, IL MARE, from Antonija Pacek was recently published, the journalist Edda Forlini contributed with the editorial of TgMusic.it with an interesting interview.
Hello Antonija, on December 7 it was a release of your new album "The sea" that contains 13 songs plus bonus tracks. What do you want to convey to people with this record?
Hi Edda, thank you for this good question. Through music I try to convey true stories, some captured moments of my life and stories of other significant people who touch my heart. The songs were inspired by real life situations, some continuous challenges, some happy moments for which it is worth living, some introspective moments, my daughters, a captivating film or inspired by the sea.
This musical project is full of wonderful sensations and full of strong emotions. The song "The sea" you composed to say goodbye to your mother and as an acceptance of her physical disappearance. You made this wonderful song in two versions, one instrumental for the piano and the other in vocal version interpreted by Barbara Kier. Tell me about this song and what you intended with it when you reach the audience that listens to it …
As you said, the Sea is a farewell song for my mother who died several years ago. With my mind, I knew there was the end, that I will never see her again, that she will never be able to listen to my concerts or my new music. However, it takes some time to accept everything with the heart. When I wrote this song, it was the most introspective moment in which my heart accepted that she had been gone forever. Before I wrote the music and after some time the lyrics started coming out of me … That's why I wanted to make, for the first time, a neoclassical song with the voice (in this case a beautiful and pure voice of Barbara Kier).
The song "Aloft" is inspired by the important film full of sadness, much appreciated by critics (created by the Director Claudia Llosa). The song is arranged with the cello to create more depth, orchestrated by Davor Rocco and Antonija Pacek, with Neva Begovic on cello. How did you discover this film? Did you already know this director?
Thank you so much for the introduction to this question. In very rare moments (as I barely find time to watch films in recent years), I just switched on a TV to watch a new film. And there was "Aloft", the film from a Peruvian director Llosa, just starting, so it was a mere coincidence. The film went straight into the depth of my soul. It was so beautifully told a sad life story about a mother with children, one of which was very ill. It was a very sad story. After watching the film, I sat in front of my piano and the music started pouring out of me. The film created a profound impact on me. It is very rare that something like that would happen to me.
There is another wonderful song "Expecting Nina" which describes a beautiful moment, your first pregnancy. This is a special time for women who are more sensitive and receptive. Do you want to describe this song and the wonderful sensations you felt when you were in "Sweet Waiting"?
Absolutely. The wonder of waiting for a new family member is magical. I could not wait to meet my first girl (and so it was with my two other girls later), to get to see her, to experience motherhood. The feelings were of joy, curiosity, a bit of impatience, love and warmth. It is pure magic to have a child in your hands for the first time. All the pain and discomfort during the delivery are completely forgotten, vanished!
Personally, I go crazy when I hear "Magic Forest", which focuses on the vision of a magical forest where you can meet magical people and understand them better as in a dream. It emanates a magical and mystical atmosphere. Antonija, describe this "Magic Forest" with your words …
The song is just different. I'm happy that you like it! "Magic Forest" travels from major to minor … but so it came out of me. It could also be a little jazzy. It's when you meet people who are somehow mysterious, that intrigue you, that confuse you. When you meet these people sometimes, you have to think about who you are and what is your quest here. Some people and nature around you have the power, in some way, to shake you up. Sometimes there are some people who are teachers in our lives, but without possessing the actual "teacher" title.
This sensational album is available on all digital platforms. Antonija can communicate emotions that pass from intense pain to joy through her piano and her music, so this music can get to all generations and many cultures. In short, Antonija is a planetary artist known all over the world for her talent and her special energy that she transmits when she plays her songs. They tell about her life and femininity that unites every living being and every woman in the most beautiful and intimate moments of our life. After the great success of "Soul Colours" and "Life Stories", your new tour is scheduled for 2019 that will touch various nations including Italy, Austria, Croatia, and the Emirates. Do you want to preview here some dates of your new 2019 tour?
Thanks for the kind words!
I have two concerts scheduled in Austria, Bad Vöslau in Hobi Raum on 11.1.2019 at 20.00
and in Vienna in the Kaisersaal (Kaiserstrasse 10) on 22.1.2019 at 19.30.
In Italy I plan concerts in Rome and Milan for the mid and end of March 2019.
In Dubai I will play a concert at an event for an international organization on March 6th. In Croatia I have scheduled two concerts in the summer of 2019, one on the island of Lopud and the second on the island of Brijuni. The dates will be announced soon and I will post them on the blog page of my website (www.antonijapacek.com)
Thank you so much for the excellent interview! The next interview Antonija might be speaking about her upcoming Tour in Italy.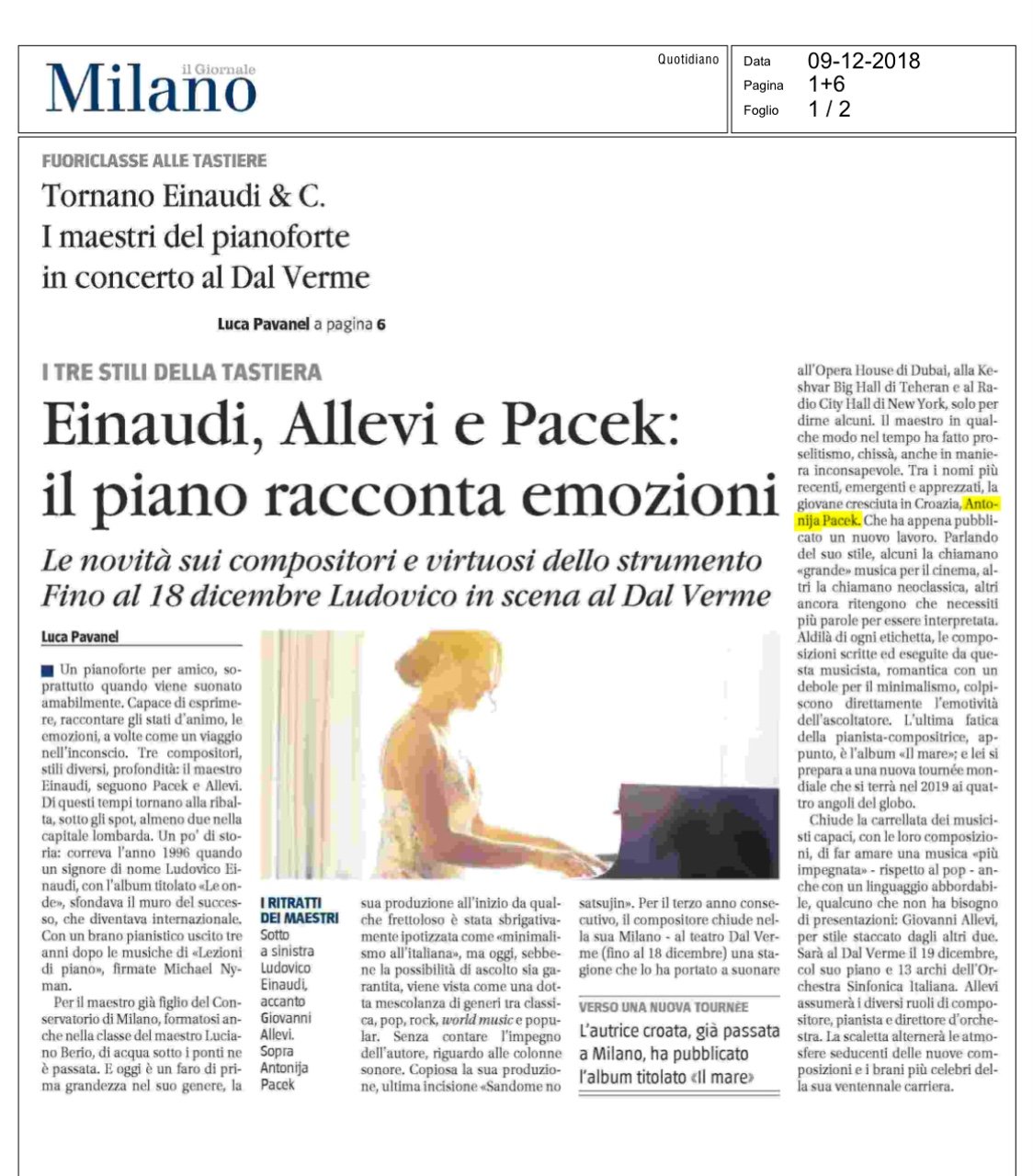 Il Giornale Milano, issue from Dec. 9th, 2018
Written by Luca Pavanel
The three styles of the keyboard, Einaudi, Allevi and Pacek: the plan is to tell emotion
The news on the composers and virtuosos of the instrument, until the Dec. 18th Ludovico will be on stage at Dal Verme
A piano music for a friend, especially when it is pleasantly played. Able to express, tell about moods, emotions, sometimes as a journey into the unconscious. Three composers with different styles and depth: the master Einaudi, followed by Pacek and Allevi. At least two of them are returning to the spotlight, under the spotlight in the Lombard capital. A bit of history: it was 1996 when a gentleman named Ludovico Einaudi, with the album titled 'The Waves', broke through the wall of success, which became international. With a piano piece released three years after the music of 'Piano Lessons', signed by Michael Nyman.
For the master, he was a son of the Milan Conservatory, also trained in the class of the master Luciano Berio, earning a degree there. And today a beacon of the first magnitude of its kind, his production at first by some criticised, but it was profoundly hypnotic and described as Italian minimalism. Today it is very sought after and well listened; it is seen as a mix of genres between classical, pop, rock, world music and popular. without counting the author's commitment to the soundtracks. Copiosa is his production, last recording was "Sandome no satsujin." For the third consecutive year, the composer closes in his Milan – at the theatre Dal Verme on Dec. 18th – a concert season that led him to play at the Dubai Opera House, at Keshvar Big Hall in Tehran and at the Radio City Hall in NY, just to name a few. The master somehow over time has proselytized, who knows, possibly unconsciously. Among the most recent names, emerging and appreciated, is Antonija Pacek, who grew up in Croatia. The Croatian author already played in Milan. She has just published a new work. Speaking of her style, some call it great film music, others call it neoclassical, while others believe it needs just words to be interpreted. No matter of each label, the compositions written and performed by this musician, romantic with a soft spot for minimalism, directly affect the emotions of the listener. The last work of the pianist-composer, in fact, is her new album "IL MARE"; and she is preparing for a new world tour that will take place in 2019 in the four corners of the globe.
We close the list of capable musicians, with their compositions to make music "that engages" – compared to pop – even with an affordable language, someone who needs no introduction: Giovanni Allevi, by style detached from the other two. At the dal Verme on Dec. 19th, Allevi with his piano and 13 strings of the Italian Symphony Orchestra. He will assume the different roles of composer, pianist and director. The play list will alternate the seductive atmospheres of the new compositions and the most celebrated pieces of his twenty-year career.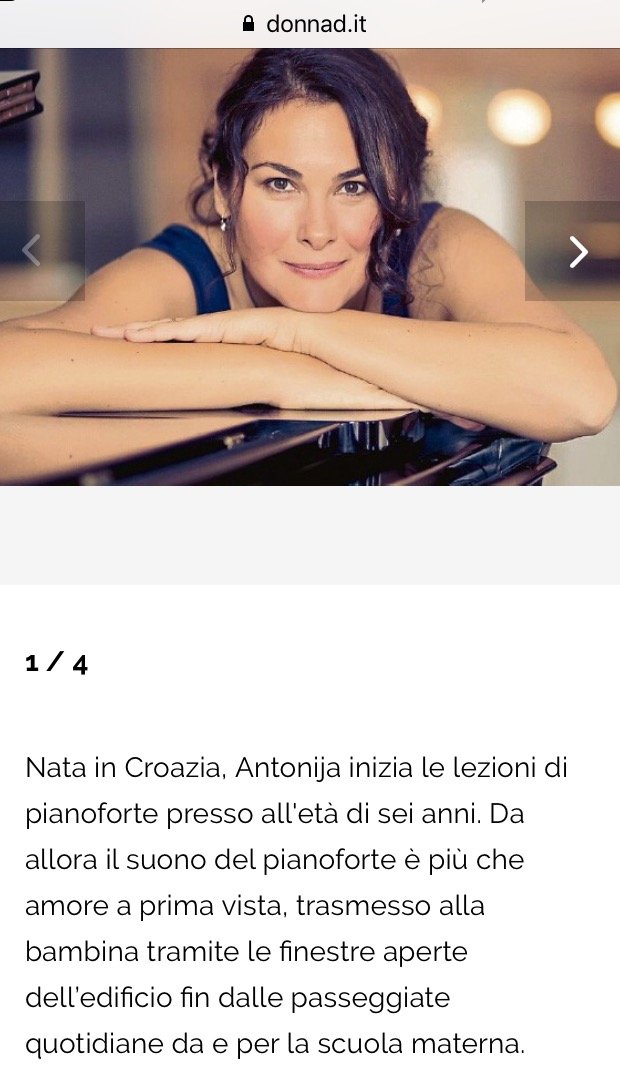 DONNE E LAVORO: Antonija Pacek: A Sea of Emotions Through My Music
Written by/Scritto da: Olivia Chierighini , in DONNAD Amica Fidata on Dec. 6th, 2018
Antonija Pacek is an extraordinary and versatile woman. Born in Croatia and now living in Vienna, she obtained a master's degree in psychology from Cambridge University (Department of Psychology of Intellectual Development), before becoming a lecturer at various universities and organizations, including the Webster Vienna Private University, where she joined forces with the legendary Dr. med. Phil. Zimbardo with whom she co-taught a course on exploring human nature. Parallel to her academic and professional career, Antonija is the mother of three daughters and is a very successful composer. On the day of the release of her album IL MARE – December 7, 2018 – she speaks about the emotions that guide her life and that inspired the thirteen extraordinary tracks that make up her latest masterpiece of neoclassical music.
You started playing piano as a child: what was an event that made you realize that that would be your passion?
In kindergarten, our teachers had a grand piano on which they played and sang. Even then I knew that this was the instrument I wanted to learn to play. I started with the music school at the age of 6 and I composed my first song when I was 11 years old.
Why did you choose to study psychology?
Because of the war in my country [in Croatia, in 1991, just 17 years old], I had to come and live in Vienna. I did not have a piano because it was not financially possible. So, my second choice was to study psychology. I received a scholarship and started my studies in 1992 at an American university in Vienna. I like helping people and teaching psychology, so it was a good choice for me.
What does it mean for you to compose? What is your personal interpretation of neoclassical music?
Composing transports me to another world, often calms emotions and is therapeutic (for example if something sad or unjust happens). Sometimes, after composing a song, I am still immersed for a long time in emotion: for example, if I meet other people, I can hear them talking around me but be distracted and not be sure of what they are saying. It takes me a few moments to get back to the "real world". When I compose, I feel like I live in another space, a sort of parallel world.
The term "neoclassical" is just a categorization of my music, which I think is difficult to decipher even if some critics have defined it so. Instead, I believe it is a fusion of classical, pop and maybe soft jazz. I love listening to all kinds of music.
How was your last album born? How long did it take to get the form you wanted?
The compositions were born during the last year and a half, except for a few songs that I wrote 2-3 years ago but I had never published them before. "Worth Living For", "Taste of Bitter" and "Back to Faith" are some of these "older" songs that were waiting for their time. Once I compose my songs, I rarely change their form. The song "Waiting" was the only one that evolved over the course of two months – as I continued to build new parts within it – but this is a rare situation for my songs.
I recorded them in my home studio, I mixed my music, and Davor Rocco mastered all the compositions. In my studio, I also recorded the beautiful voice of Barbara Kier for my song "The Sea", and I made the first mix with my piano instrumental. Davor and I did the cello orchestration for the song "Aloft" and we recorded it in his studio in Zagreb with Neva Begovic – cello professor in that city – who interpreted [our arrangement]. All this required three months of dedicated work.
What were you inspired with?
With real life situations, the continuous challenges in life, but also with a realistic and dramatic film, happy moments, my daughters, with the sea.
What importance does emotion have for you and how do you balance it with rationality?
Emotions are intertwined in my music. All I hear when I create a song is in there. And I am aware of my emotions, which is why I also need my own rational side. Being aware of one's emotions, occurs only with an analytical, rational mind. Emotional and rational should ideally be synchronized concepts. Sometimes we can be hijacked by strong emotions, which in a negative way interfere with our rational mind and, therefore, music helps to calm down and return to the full awareness of the rational self.
What do you think when they tell you that you are the female response to Ludovico Einaudi? Is there a "feminine" way of seeing music?
I am honoured that people compare me to Mr. Einaudi: he is a great and accomplished artist. The feminine within music would perhaps be a synonym of romantic, emotional, melodic; however, it is also possible to hear this in compositions of male composers, who are in touch with their feminine side. There are many romantics in the realm of music who are actually men. In terms of associations, I would say that a male way of seeing music would be more a concern for the technique, showing the mastery of the instrument, without necessarily worrying about the melody and emotions within the music.
What part does music have in your daily life? How does it intersect with the life of your family?
In recent years I rarely have extra time to be able to find the time to listen to the music of others [or to watch TV], in order to create, to practice piano, to teach and be able to spend enough time with my family. If it happens that my children are around the house and a melody comes to my head, it does not bother me to start writing my song even if they jump around, play near me or are lively.
What has been the professional and human event that you believe has touched you the most?
In terms of creating music, the loss of both my parents – which took place within six months – has created a profound emptiness, bringing immense pain and a sense of bitterness. I wrote a lot of music specifically dedicated to mom. The song "the Sea" is one of these.
What do you feel when you're on stage and you perform in a concert? Was there a moment when you were afraid?
It is a mixture of excitement and fear. Of course, every time I'm on stage, I feel a bit 'of anxiety, but I try to suppress it with my desire to tell my musical stories to the public, to communicate the expression of my soul to the souls of others.
Who are your points of reference, those that you consider your teachers or those who inspire you, when you compose?
The list here would be too long. I love classical music, opera, musicals, pop music (which I also listen to with my teenage daughter), rock, jazz. I do not appreciate traditional Austrian or Croatian music, but Irish folk music is so beautiful, poetic, and dancing. The list is huge and very mixed! The bottom line is that music touches me deeply.
What do you say to yourself to find the strength to do everything you do every day?
Love what you do, do what you love. You can easily find the strength this way, even when it's hard, you do not give up easily.
If you had to go back in time, what would you do better or what would you change?
This is a good question. I imagine that I would like to have more patience, especially when there are stressful moments or I am sleep deprived.
What would you recommend to a young woman who wanted to be a professional musician?
To trust one's own abilities and to have confidence in oneself, with the right intellectual honesty. To have something true to say through one's own music or by interpreting the music of another composer.
What are your plans for the future?
I would like to play more concerts, to touch more people and make them confident in their challenges. I want to continue teaching psychology: sometimes I integrate my music in some seminars, for example on creativity and innovation. Creating music and educating people are really my favourite types of work.
Full Article: https://www.donnad.it/da-realizzare/racconti-di-donne/donne-e-lavoro/antonija-pacek-un-mare-di-emozioni-attraverso-la-mia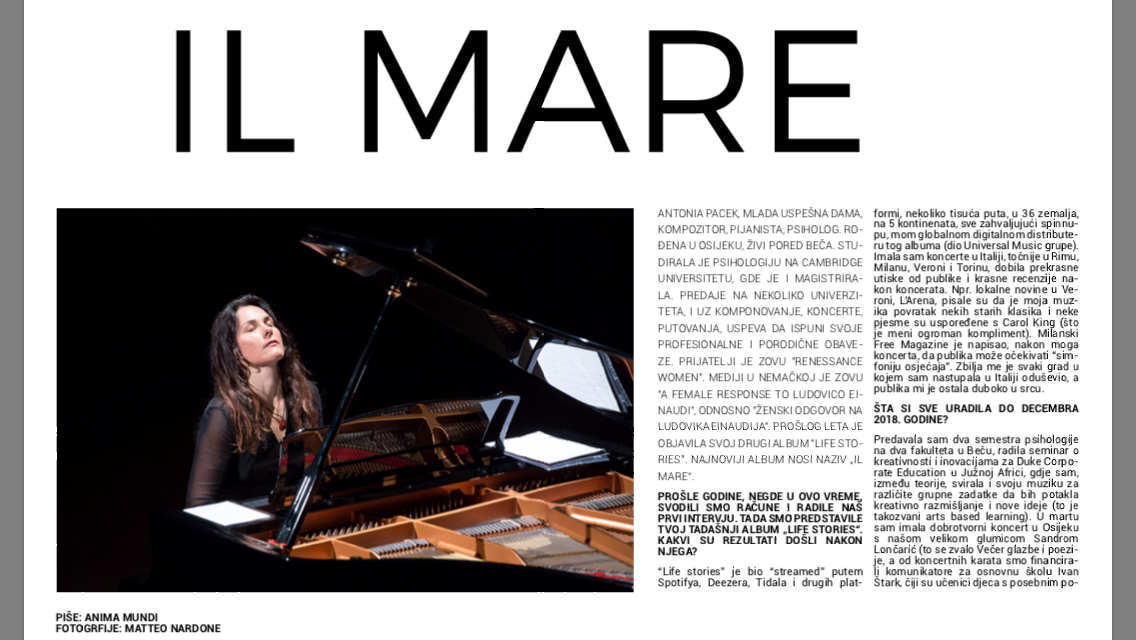 December Issue 2018 RYL Magazine, Serbia; interviewed by Mia Medakovic Topalovic
"IL MARE"
Antonija Pacek, a successful lady, composer, pianist, psychologist, was born in Osijek, and lives near Vienna. She studied psychology at the University of Cambridge, where she earned her M.Phil degree, and teaches at several Universities in Vienna. Next to composing, concerts, travel, Antonija manages to fulfil all of her professional and family duties. Some of her friends call her a "renaissance woman". German media called her "a female response to Ludovico Einaudi". Last Summer Antonija published her second album "Life Stories" and the most recent album was titled "IL MARE".
Last year, around this time, we made our first interview. Then we presented your new album "Life stories". What were the results coming after our interview?
"Life Stories" was streamed through Spotify, Deezer, Tidal and several other platforms, several thousand times in 36 countries on 5 continents, all thanks to spinnup, my global digital distributor of that album (part of the Universal Music Group). I had concerts in Italy, more specifically in Rome, Milan, Verona and Turin, and received beautiful impressions from the audience there, and great reviews after the concert. For example, L'Arena, a Newspaper in Verona, wrote that my music feels like the return of some old classics, and some songs were compared to Carol King (which is a huge compliment to me). Soon after my concert there, Milan's Free Magazine has written that audiences can expect a "symphony of emotions". Indeed, every city I played in Italy has delighted me, and the audience stayed deep in my heart.
What did you do by December 2018?
I lectured at two universities in Vienna, worked on a seminar on creativity and innovations for Duke Corporate Education in South Africa where I, between theory, played music for various group tasks to stimulate creative, divergent thinking and during self-reflective exercises (so-called arts-based learning). In March, I organized a charity concert in Osijek with our great actress Sandra Loncaric (this was called the evening of music and poetry, and from the concert tickets sales we financed the communicators for the primary school Ivan Stark, whose pupils are children with special needs). The concert took place at the Croatian National Theatre in Osijek and the intendant gave us the beautiful foyer at the theatre as his contribution. All tickets were sold out and we got a very nice and warm impression of the audience. Sandra and I also made a little concert in that school to touch hearts of the little students there. Subsequently, four cities in Italy followed in April. In addition, this fall I played a charity concert in a geriatric home in Vienna, which often organizes concerts for their residents as well as various creative workshops. People seemed to be deeply touched: some older women sat side by side holding each others' hands, as they felt my music permeated through to them, some of the people came alone in their wheelchairs when they heard music in the hallways care. Their caretakers later told me, they never came to other concerts before. It was a pure magic!
Are you particularly proud of some of your music year?
I'm especially proud of this year because it was like no other so far. I am glad that I finally found the courage to organize two charity concerts, as it has always been my wish to do that. So many wonderful, sincere energies and emotions are given in return!
December Issue 2018 RYL Magazine, Serbia; interviewed by Mia Medakovic Topalovic
"IL MARE" continued, p. 120-121
At the age of 11 you composed your first composition. When you play it today, do you see little Antonija entering her music world?
When I play "Tamed Courage" I sometimes mention to the audience that this is my first composition ever written. Sometimes I'm surprised that I was so small, when I wrote something so serious. The child's courage was tamed in the music school, where sometimes some of the teachers were somewhat abusive….
Has the first love been forgotten? Because you are a psychologist, pianist and composer, which of these three personalities do you prefer the most?
I like to teach psychology, but when I compose then I feel like I'm "transcended" and so I often feel at concerts. I think of these three personalities that I unite, I like the best my composing part. But I have to admit that I felt a kind of euphoria when I could teach and play my compositions to a group of business people to help them with divergent thinking and introspective exercises. That was quite a special experience.
Do you know how your music influences the listener? Who are your listeners?
People are holding hands in my concerts, their thoughts are floating to another worlds, to working through some of their events that stayed unprocessed. Some come to me in tears to thank me for the emotions they felt during my concert, or they hug me to thank me even if I have never seen them before. This is all unimaginable, these moments are precious and invaluable.
What do you like to listen to, which you could unconsciously interweave into your music?
I like to listen to Debussy, Chopin, Faure, Bocelli, Oscar Peterson, Matija Dedic, jazz and pop. Of course, my daughter let me listen to some new pop music, which I also like. But when I create and when I record an album, then I do not listen to anything because I need to hear my own, inner sounds. Probably unconsciously, I have some external influences when I hear different music, which somehow unconsciously goes into my compositions. Since I'm listening to different genres, so is my music very difficult to classify – possibly a fusion between classical, pop and some soft jazz music.
In one interview, you said the chords would come naturally out of you. How would you explain this?
The chords come from subconsciousness. I often hear fragments of my new songs and then sit down in front of my piano to finish the composition with improvisation. It's very bizarre that when I finish composing, then it takes me a while to go back to "this world." I feel a bit like I'm in some parallel world while I'm playing and composing music. If, soon afterwards, people say something to me, I'm not 100% aware of what they have said to me, I have to concentrate very strongly on them. Like they are a bit out of focus ….
What is your experience with concerts in Italy? You played in Rome, Verona, Milan, Turin? How did you find the Italian audience?
I wrote a lot of new music between the concerts. In Italy I even presented my two new songs – "Before the Storm" and "the Sea". L'Arena wrote: "As a starter of her new work, Antonija offers" Before the Storm "and" The Sea ", with the second that focuses the lens: after a couple of hours the succession of chords remains in mind, similar to the cyclical movement of the waves." And because of such a warm audience, I decided to call my new album IL MARE, which means the sea. There will be 13 new compositions, one will be orchestrated with cello, the song Sea will be presented as instrumental and then elaborated with vocals (a cross over style). I'm happy to say that my new album will be released in early December this year.
The theme of the Dec. issue of RYL Magazine is a quote from Kokan Mladenović, "If Sombor were Hollywood – only dreams cannot go bankrupt". Do you find yourself in it?
Very much so, because as a composer I am full of dreams, which are never materialistic. We need to dream because I think when we stop doing it, it's like we're not alive anymore. Sometimes people around me inspire me, some of my strong experiences, or a movie. I always just want to sincerely express my emotions in all compositions. When I play, I want to express honestly my stories through music. And I dream how I will touch more souls, and succeed in "soul to soul communication". Maybe with this, I might give some good therapy to the listeners just the way the process of composing my new songs gives me a certain therapy.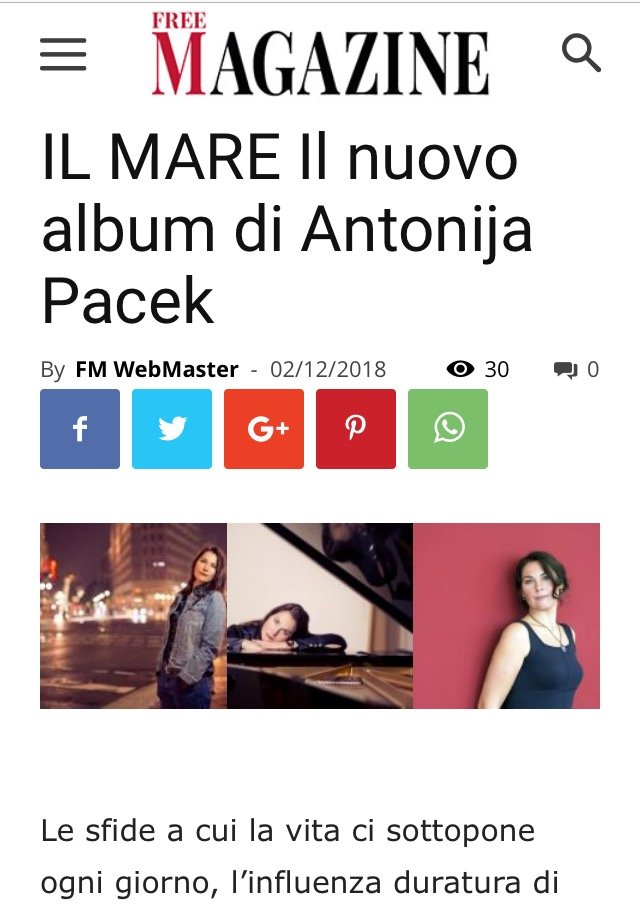 Free Magazine, Italy, 2.12.2018
"IL MARE" the new album of Antonija Pacek
Free Magazine has been endorsing Antonija's music since the live concert at Teatro dal Verme in Milano. Free Magazine reviewed her concert to be, "symphony of emotions" in April, 2018. In this article,Ale Musella wrote about the inspiration behind the new album "IL MARE", created by Antonija Pacek.
"There is a sea of emotions that are interwoven in the 13 original compositions that the pianist and composer of Croatian and Austrian origin has created and interpreted in her third, highly anticipated album. The instrumental pieces are seasoned with poetic imagination and unexplored sounds that will certainly appeal to the sensitivity of listeners of every story, geography and generation!"
Free Magazine also reports that the "IL MARE" will be published via spinnup (Universal Music Group) and will be available on the major digital streaming and download platforms (such as iTunes, Amazon, Spotify, Deezer, Tidal, Google Music, etc.) worldwide as of this Friday, December 7th, 2018."
"Antonija Pacek has been able to transmit to a multigenerational, multicultural audience a true passion in the way of playing and interpenetrating life through music.
After the success of "Soul Colors" and "Life Stories", new tours and concerts are scheduled in Italy, Austria, Croatia, and the Emirates."
The article also writes about the stories behind the compositions, and here is the excerpt:
"Before the Storm" – the opening song of the new album describes the challenges that Antonija faced with one of her children. Retrospection is the watchword: Antonija has carefully listened to her daughter's heart and feelings, so the controversies have been resolved over time.
"The SEA" is a goodbye song to her mother, accepting her physical disappearance. An excerpt of the song that Antonija wrote for this composition says "your face reflected in the deep, deep blue sea, oceans of memories, right back, back at me, searching for the moments for the days full of glare, then rolling with the wave coming up for air… ". In the album, the piece has an instrumental version for solo piano (track 2) and a vocal version (bonus track 14) interpreted by Barbara Kier.
"Forgive" is a sad song, focusing on forgiveness, and it combines two stories: one related to the misfortune and difficulties of one of her dear friends, and another one is linked to the personal moods of Antonija connected to the disappointments of certain friendships. The artist says: "It seemed therapeutic to write this song and to find a strength to forgive".
"Aloft" is inspired by the film of the same name: a sad, atmospheric, profound, slowly and thoughtfully told life drama. The song is arranged with cello to create more depth, orchestrated by Davor Rocco and Antonija Pacek, featuring Neva Begovic on cello.
"Late Fall" was actually composed a few years ago at the end of the fall season. The composition portrays a frustration that is experienced with the passage of time, sometimes too fast, sometimes too slow, which arises from the disappointment of not seeing fast results despite the immense work built with the heart. Yet it does not represent a song "downer", because it is still imbued with energy to have the strength to go on and stay focused and motivated.
"Expecting Nina" describes a happy mood when Antonija was pregnant with her first daughter and was waiting for her arrival.
"Magic Forest" is focused on the vision of a forest where you can discover mysterious things, see new places and meet new people and understand them better, as there are often opportunities in life. A portrait of an explorative and mystifying atmosphere.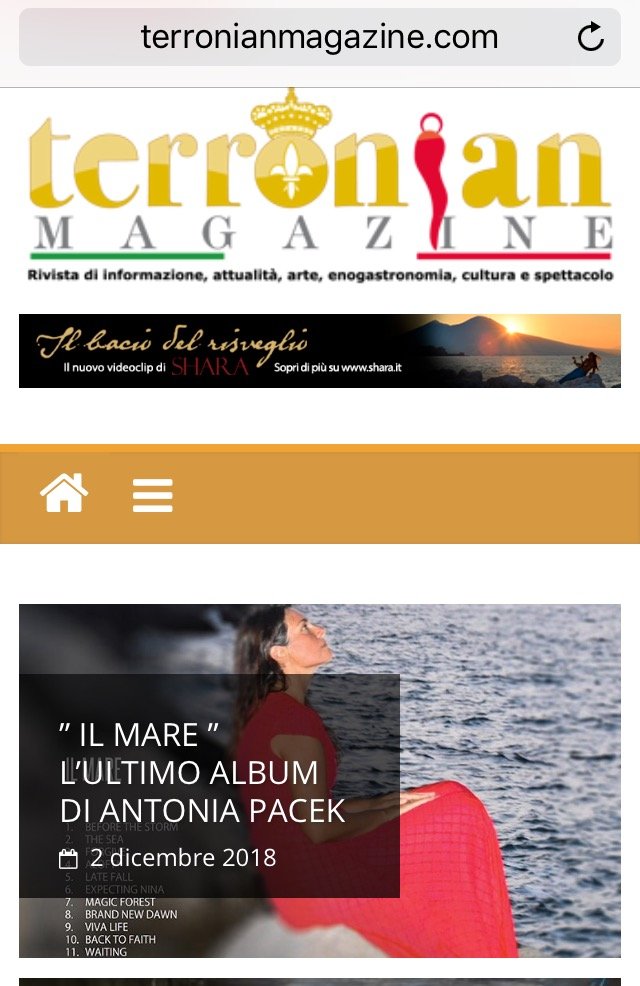 Terronian Magazine, Italy, 2.12.2018
"IL MARE" the upcoming album of Antonija Pacek
The challenges to which life submits to us every day, the enduring influence of a great loss, the disappointments of friendship and the sense of forgiveness, a sense of faith and trust in one's own actions and thoughts, a sad movie, but also happy moments, are some of the major themes that inspired the new album by Antonija Pacek: "IL MARE" (the Sea). There is a sea of emotions that are interwoven in the 13 original compositions that the pianist and composer of Croatian and Austrian origin has created and interpreted in her third, highly anticipated album. The instrumental pieces are seasoned with poetic imagination and unexplored sounds that will certainly appeal to the sensitivity of listeners of every story, geography and generation! During Antonija's stay at her summer retreat house right next to the sea, the artist found there a meditative clarity and a creative energy that led her to compose songs such as "Forgive", "Magic Forest", "Viva Life" and "Back to Faith".
The "IL MARE" will be published via spinnup (Universal Music Group) and will be available on the major digital streaming and download platforms (such as iTunes, Amazon, Spotify, Deezer, Tidal, Google Music, etc.) worldwide as of this Friday, December 7th, 2018.
In the coming weeks, the album will be broadcasted by the prominent Klassik Radio in Vienna, Austria; Twentysound Radio in Berlin, Germany; Radio Kristall in Milano, Italy; Shades of Classics in Canada; and on Whispering Radio in the USA.
Antonija Pacek has been able to transmit to a multigenerational, multicultural audience a true passion in the way of playing and interpenetrating life through music.
After the success of "Soul Colors" and "Life Stories", new tours and concerts are scheduled in Italy, Austria, Croatia, and the Emirates.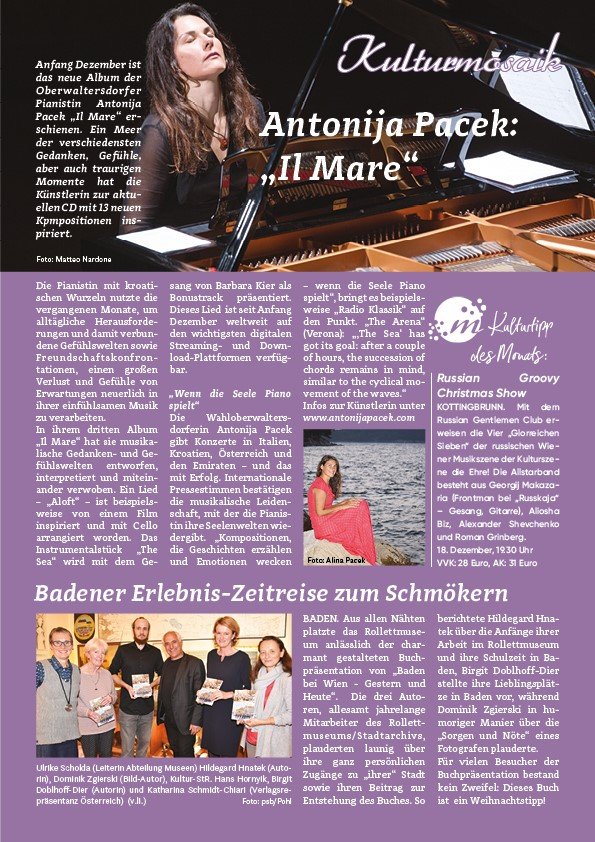 Mosaik Magazine, December issue 2018
"Kulturmosaik" Antonija Pacek: "IL MARE"
At the beginning of December, the new album "IL MARE" of the pianist and composer Antonija Pacek will be released. A sea of different thoughts, feelings, but also sad moments, have inspired the artist to create the current CD with 13 new compositions.
The pianist and composer, with Croatian roots, took the past months to process every day's challenges and with it connected feelings, as well as some friendship confrontations, the enduring influence of a great loss and the sense of expectations – interweaving these feelings into her emotional music.
In her third album "IL MARE", she has designed, interpreted and interwoven musical visions and feeling worlds. A song "Aloft", for example, was inspired by a film and arranged with cello. "The Sea" will be presented with the vocals of Barbara Kier, as a bonus track. These songs will be available worldwide since the beginning of December through the most important digital streaming and download platforms.
"When the soul plays piano"
Antonija Pacek will be playing concerts in Italy, Croatia, Austria and the Emirates – her previous concerts were successful. International press reviews confirm the musical passion with which the pianist reflects her soulful world. "Compositions that tell stories and awaken emotions – when the soul plays piano", for examples, Klassik Radio (Vienna) reports. L'Arena (Verona): "'The Sea' has got its goal: after a couple of hours, the succession of chords remains in mind, similar to the cyclical movement of the waves."
Information about the artist under: www.antonijapacek.com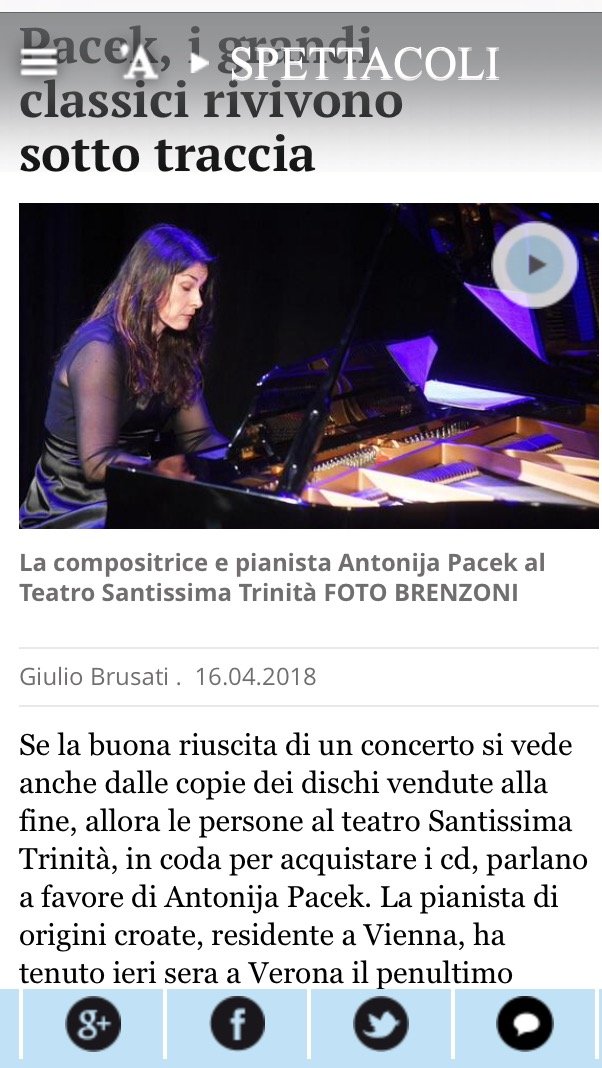 L'Arena newspaper, Verona, 18.4.2018
Pacek, revival of the great classics (of below tracks)
If the success of a concert can also be seen from the copies of the discs sold at the end, then the people at the Santissima Trinità theater, queuing to buy the CDs, speak in favor of Antonija Pacek. The pianist of Croatian origins, residing in Vienna, held last night in Verona the penultimate (second to last from four) recital of her first ever Italian tour. Grouped by themes and inspiration, the pieces composed and played only at the piano are fluid, with a strong melodic connotation, so much so that they can be singed at first listening. On all, "Ecstasy", is the song with the most accentuated rhythm. Not surprisingly, a remix version was also published, "pumped" by a DJ like Roberto Bedross who had already put his hands on a piece by Ludovico Einaudi, turning it into a wonderful dance piece. The name of the Turin composer is the first that comes to mind listening to Pacek, but the Croatian artist – who is a psychologist by profession, graduated in Cambridge – has different influences that are not limited to the author of "Divenire".
In "Restless", "without rest, tireless", an emblematic piece of her production, taken from the debut album, "Soul Colors", you can even notice a traditional Neapolitan song Cantabile – it's just a suggestion that is not visible in the title, but it makes explicit the vast field from which Antonija draws her inspiration. The great classical composers are influencing her, in below tracks, but it is also perhaps pop music there as well. "Loving you", apart from sharing the title with an Elvis Presley classic – but there is no melodic relationship – this is another song dedicated to her husband ("The first and only love of my life", she revealed) and expresses her love in a romantic phrase, as opposed to another song that seems to be more influenced by pop music. It is not uncommon during her performance to remember the title of the song: the sequences of notes inspire the listener, also influenced by the title. As in "Reaching Sky", the words of the title naturally flow within music. The verse floats between echoes of Carole King, Neil Young and Elton John: it would be a remarkable pop ballad. Even more convincing are the unreleased tracks, which will be part of the next album, the third after "Life Stories" published in 2017. As a starter of her new work, Antonija offers "Before the Storm" and "The Sea", with the second that focuses the lens: after a couple of hours the succession of chords remains in mind, similar to the cyclical movement of the waves. • © ALL RIGHTS RESERVED
Giulio Brusati
Fedelta 03/2018
Some call it great music for the cinema, others call it neoclassical, others still believe it needs words to be interpreted. Beyond labelling and classification of the compositions-they are written and performed by Antonija Pacek, romantic with a weak spot for minimalism. The compositions certainly connect to the deepest emotions of the listener. From April for the first time in Italy, she will share her melodies live as she will be on Italian tour with four dates. The pianist and composer is defined by the German press "a female response to Ludovico Einaudi" and "music beautiful as a radiant jewel" and will be playing concerts in Rome on April 13th (Teatro di Villa Torlonia), going to Milano on April 14th (Teatro Dal Verme), in Verona on April 15th (Teatro SS. Trinita) and in Torino on April 16th (Circolo dei lettori).
Il Nuovo Corriere March, 27th 2018
"a female response to Ludovico Einaudi"
Antonija Pacek inserted in Carnet Verona
of April 2018.
The 1st tour of Croatian artist, graduated from Cambridge, with piano neoclassical minimalist music similar to Satie and Keith Jarrett – on April 15th in Verona
DONNA MODERNA
Antonija Pacek
Who is it? The press has already renamed her "the female response to Ludovico Einaudi". Croatian, 43, wrote the first track at age 11, but because of the war, she began composing full-time almost 20 years later, when her husband gave her her first piano.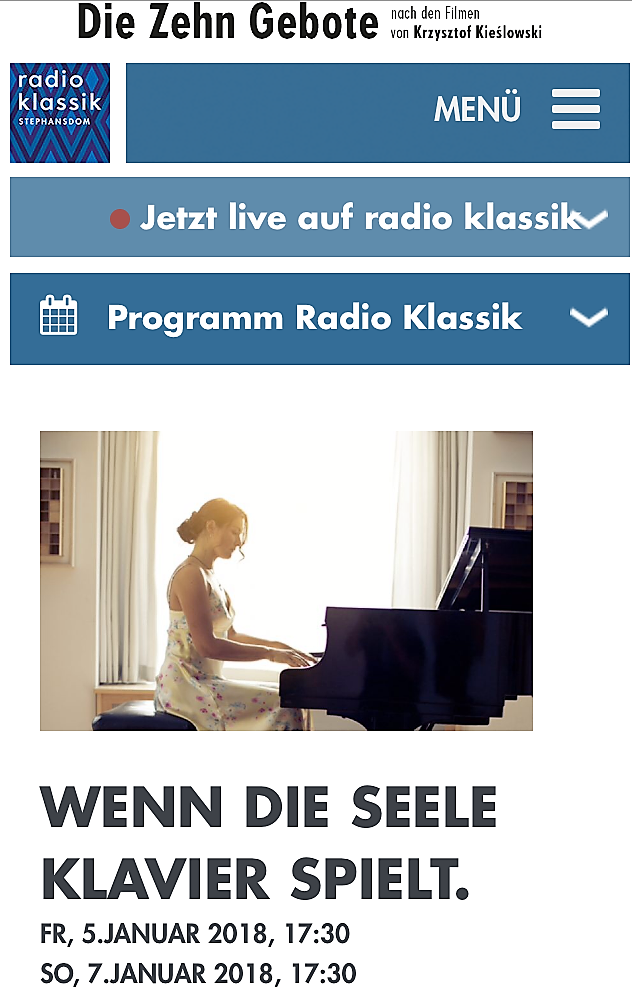 Life Paths program from Radio Klassik Vienna, broadcasted on Jan. 5th and 7th as well as on March 4th.
Gerlinde Wallner interviewed Antonija.
Find an excerpt of the interview on my blog.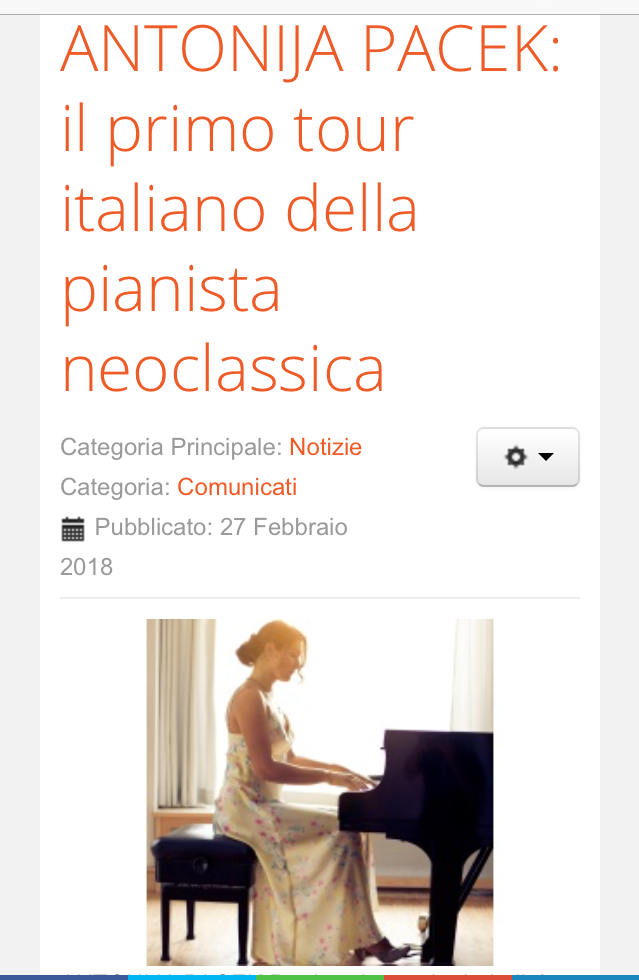 Ezrome blog, March 2018
Antonija Pacek: first tour in Italy from a neoclassical pianist
Full article can be read: here.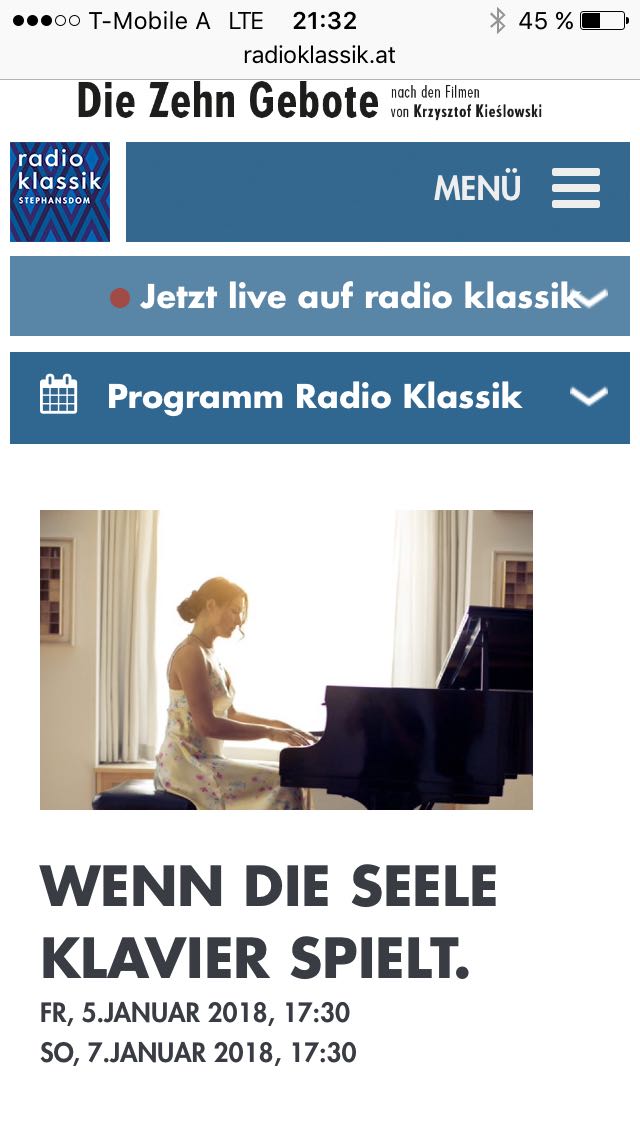 Radio Klassik, January 2018
When the Soul Plays Piano
Antonija's piano music and interview was broadcasted on Radio Klassik in Vienna, Austria
About the Composer and Pianist Antonija Pacek
Antonija Pacek grew up in a Croatian city, Osijek. Already as a kindergarten child, she knew that "the piano is my instrument". At home as a child, she fantasized that a kitchen table were her piano, and she would let her little fingers dance over the surface of the table –the money was missing for a real piano. Later her mother took three jobs to simultaneously work on in order to afford a piano for her child. Antonija Pacek's way to become a musician was anything but a straightforward path: it followed a war, fleeing to Vienna, a psychology study at the University of Cambridge. Today Antonija Pacek plays piano again and composes. She published two CDs with her compositions: "Soul Colours" and "Life Stories" – compositions that tell stories and awaken emotions. It feels as if Antonija Pacek's soul itself takes place in front of the piano and the very inner, deepest side of her is audible.
The Interview and the story by Gerlinde Wallner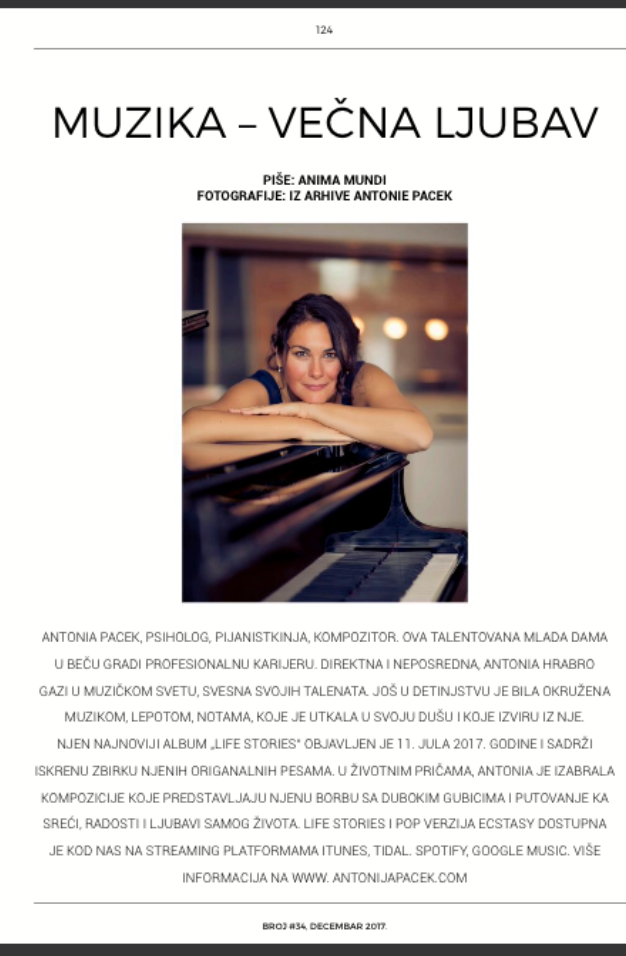 RYL Dec. 2017, Issue no. 34
Written by Anima Mundi
Photography from Antonija Pacek's archive
"Music – Infinite Love"
Antonija Pacek, a psychologist, pianist, composer. This talented young lady has been building her professional career in Vienna. Direct and immediate, Antonija courageously entered the world of music, aware of her talents. Already in her childhood, she was surrounded by music, beauty, notes, which she has interwoven into her soul, and this has been coming out of her soul.
Her newest album "Life Stories" was published on June 11th, 2017, and it is an honest collections of her original songs. In "Life Stories", Antonija chose compositions that signify her struggle with the deep losses as well as her travel toward happiness, joy and love of life itself.
"Life Stories" and the pop/dance version of the song "Ecstasy" is available on our market
on streaming and downloading platforms such as iTunes, Tidal, Spotify, Google Music.
Full article on: http://antonijapacek.com/ryl-dec-2017-issue-no-3/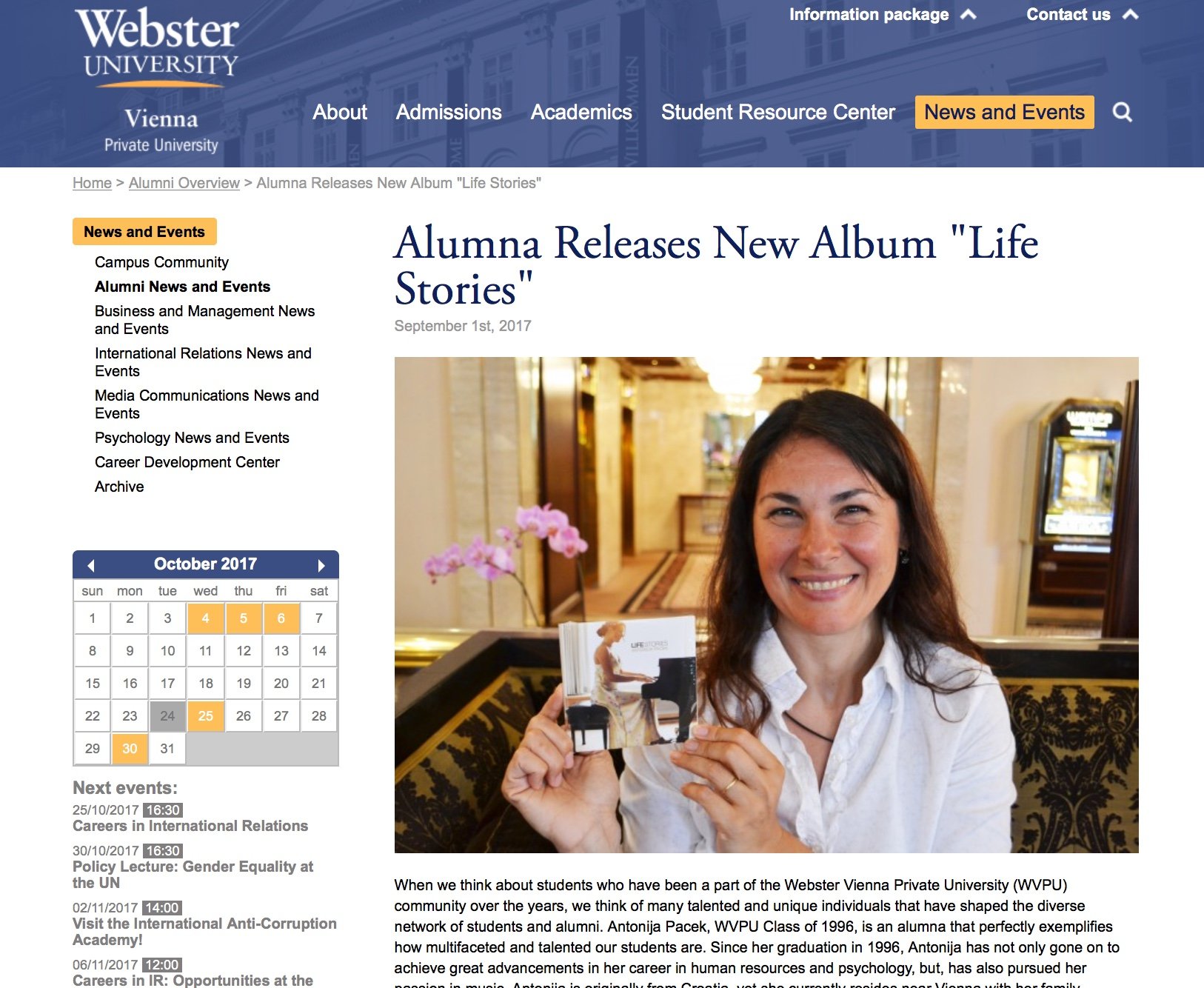 Webster University Website, from Sept 2017
This interview with Carna from Webster University offers an exclusive look into what went into the making of the album 'Life Stories'.
You find the full interview on the following pages:
http://webster.ac.at/article/alumna-album-life-stories
Mosaik, from Sept 2017
"The aim of my music is to move you."
Antonija Pacek, mother of three, originally comes from Croatia. After living for several years in Vienna, she eventually settled down in Oberwaltersdorf. Although the young mother studied psychology in Vienna and Cambridge, her passion is music. Already as a small child, she did everything possible to learn to play the piano. This Summer her second neoclassical album, Life Stories, has been released – a delight for the ear and food for the soul!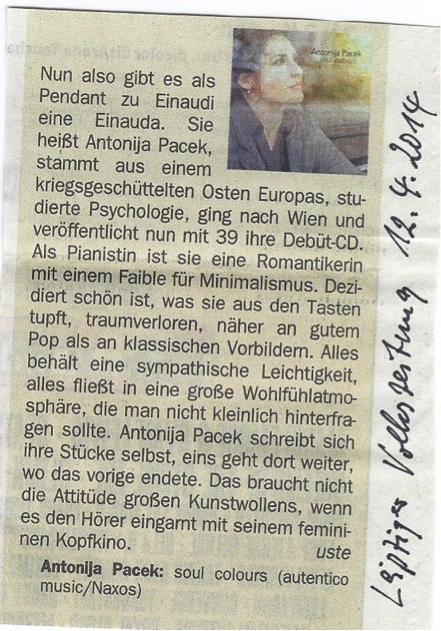 Leipziger Volkszeitung, from 12.4.2014
So now there is a counterpart, a female response to Einaudi. Her name is Antonija Pacek, who comes from an Eastern European war-shaken country, studied Psychology, went to Vienna and published her debut CD now at the age of 39. As a pianist, she is a romanticist with a soft spot for minimalism. The way she dabs the piano keys is particularly beautiful, dreamy, nearer to fine pop than classical paragons. Everything carries an appealing easiness, everything flows into the big atmosphere of sense of well-being, which one should not scrutinize in an undermining way. Antonija Pacek composes her piano pieces herself, one composition goes there farther where the previous finished. It does not require the attitude of those who appreciate complex compositions, because the music gets directly to listeners' hearts.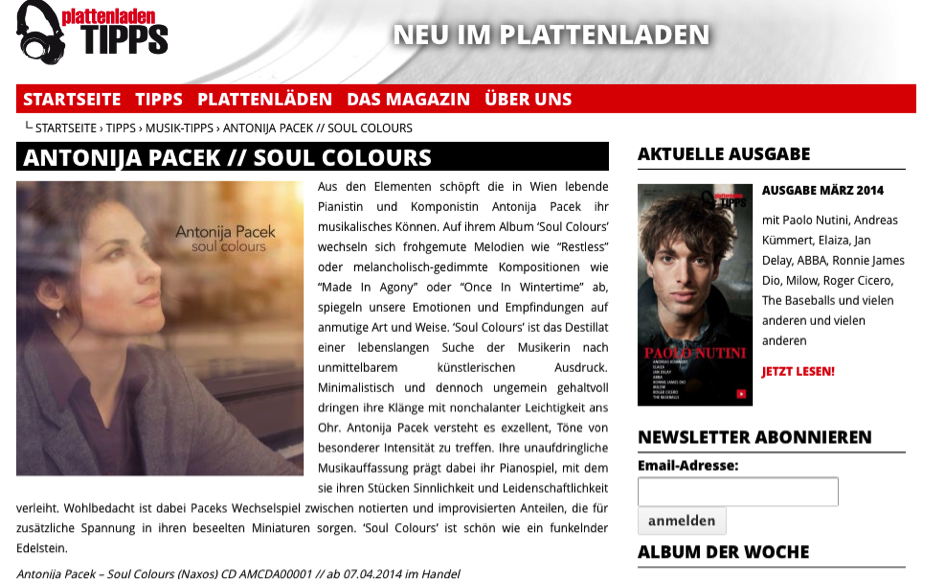 PlattenladennTipps, from 7. April 2014
Antonija Pacek//Soul Colours (New CD, Music Tips)
Vienna-based pianist and composer, Antonija Pacek, derives her music skills from the life elements. On her album 'Soul Colours' alternate buoyant melodies such as 'Restless', or melancholy-prone compositions such as 'Mady in Agony' or 'Once in a Wintertime'. The compositions mirror our emotions, sensations and sentiments in a graceful manner.
'Soul Colours' features the distillation of a lifelong search of the musician for immediate artistic expression. Her notes, minimalistic, and yet spaciously enriching, penetrate the ear with a nonchalant lightness. Antonija Pacek excellently understands how to strike the chords with special intensity. Her unobtrusive music concept characterizes her piano playing, by which she prompts her compositions with sensuality and passionation. Pacek considers well a balance between notated and improvised parts, which ensure an additional suspense for her soulful miniatures.
'Soul Colours' is beautiful like a radiant jewel.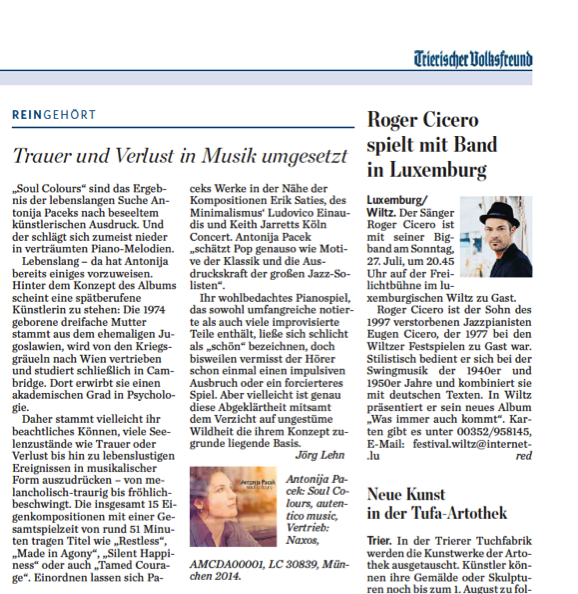 Trierischer Volksfreund, from 26./27. July 2014
Sorrow and Loss Transcribed in Music
'Soul Colours' is the result of Antonija Pacek's lifelong search for immediate and truthful expression of her soul. And it is reflected mostly in dreamy piano melodies. Lifelong—here Antonija has already some things to show.
An artist with a rather late-blooming career as a musician is standing behind the concept of the album: Born in 1974, mother of three children, came from Croatia, fleeing from the horrors of war to Vienna and studied finally in Cambridge (UK). There she received the academic degree in Psychology.
It is from her past where she derives her remarkable ability to musically express many states of soul such as sadness or loss all the way to love of life occurrences—from melancholic-sad to happy-lifting. The total of 15 self-composed pieces with about 51 minutes of playing time, the album consists of titles such as 'Restless', 'Made in Agony', 'Silent Happiness' or 'Tamed Courage'. Pacek's works of music can be placed near compositions of Erik Satie, near minimalism of Ludovico Einaudi and Keith Jarrett's The Köln/Cologne Concert. Antonija Pacek 'loves pop as much as classical melodies, digs the expressiveness of the great Jazz-soloists'. Her well-considered piano playing, which consist of comprehensive notated as well as many improvised parts, leaves the atmosphere quiet, but beautiful. However the listener might sometimes miss occasional impulsive eruption or forced playing. But maybe exactly this philosophy together with the abandonment of wild fierceness is the basis of her underlying concept.
Jörg Lehn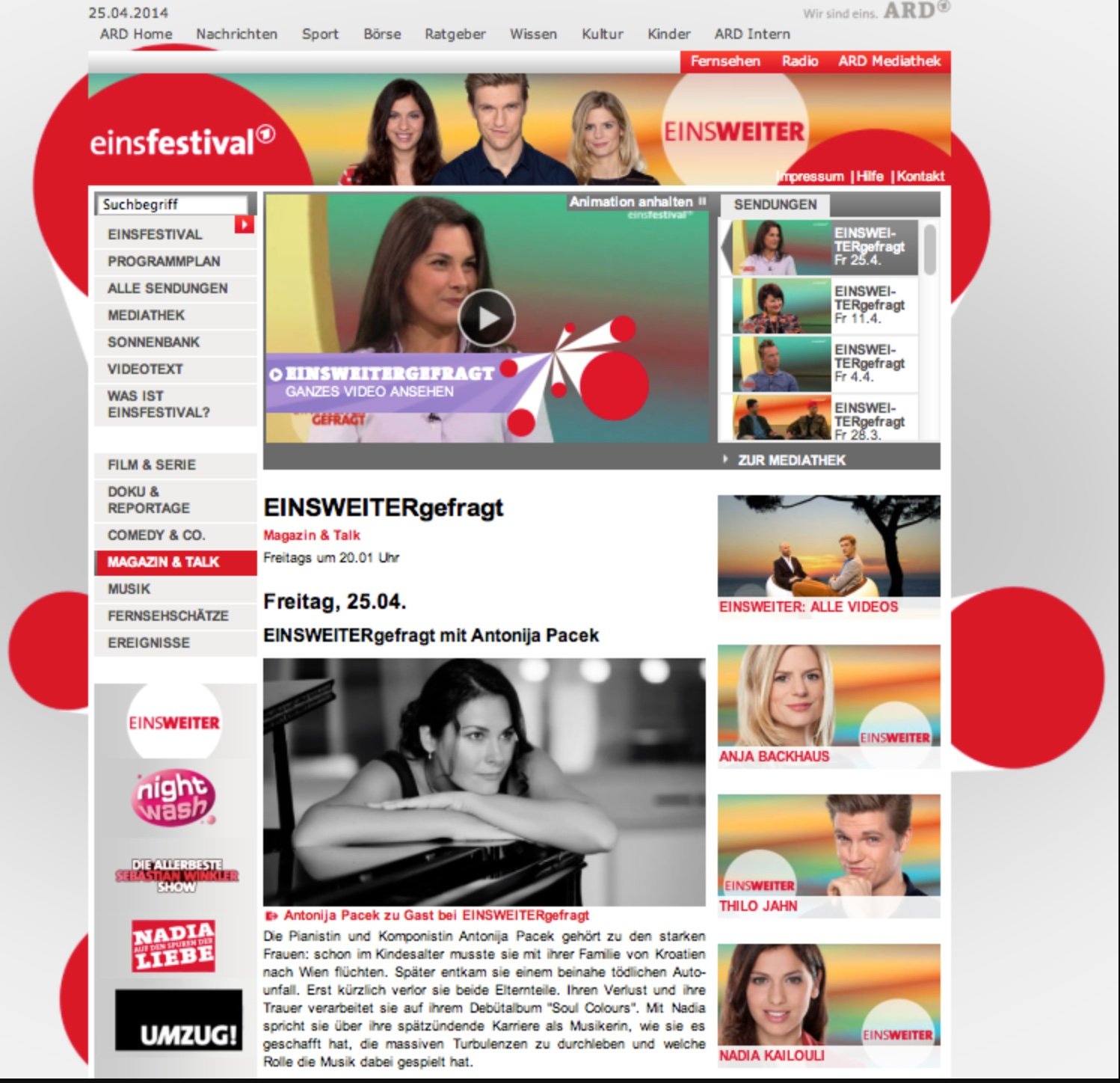 ARD, EINSWEITERgefragt from 25th April 2014
Antonija Pacek being interviewed about her new Album "Soul Colours" from "EINSWEITERgefrat" at TV Station ARD "Einsfestival".