Press Center
Connecting soul to soul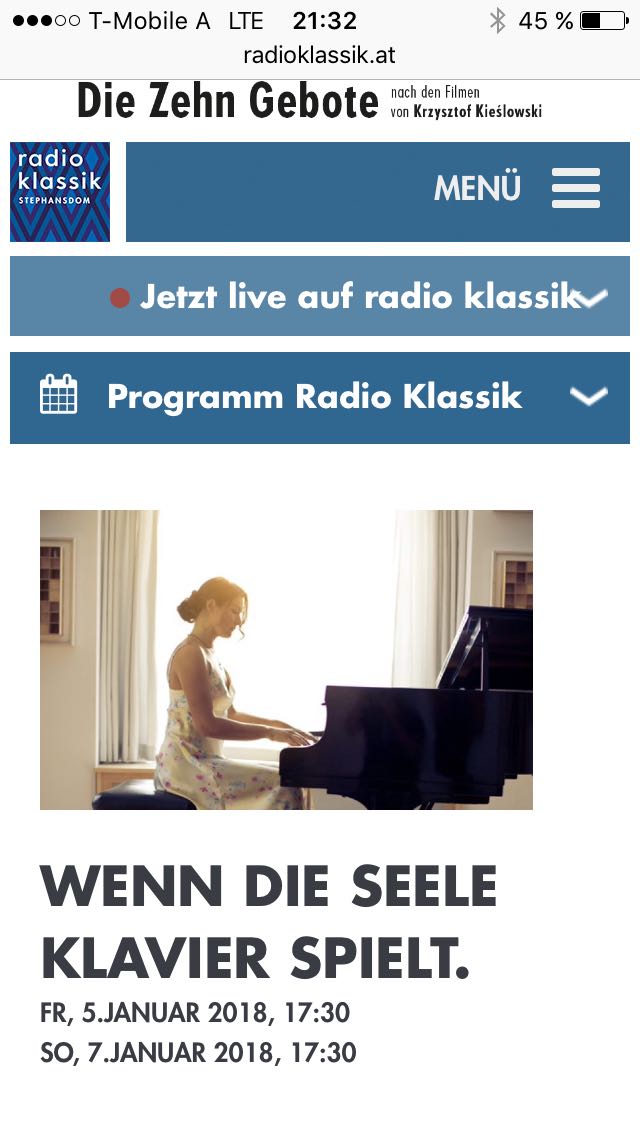 Radio Klassik, January 2018
When the Soul Plays Piano
Antonija's piano music and interview was broadcasted on Radio Klassik in Vienna, Austria
About the Composer and Pianist Antonija Pacek
Antonija Pacek grew up in a Croatian city, Osijek. Already as a kindergarten child, she knew that "the piano is my instrument". At home as a child, she fantasized that a kitchen table were her piano, and she would let her little fingers dance over the surface of the table –the money was missing for a real piano. Later her mother took three jobs to simultaneously work on in order to afford a piano for her child. Antonija Pacek's way to become a musician was anything but a straightforward path: it followed a war, fleeing to Vienna, a psychology study at the University of Cambridge. Today Antonija Pacek plays piano again and composes. She published two CDs with her compositions: "Soul Colours" and "Life Stories" – compositions that tell stories and awaken emotions. It feels as if Antonija Pacek's soul itself takes place in front of the piano and the very inner, deepest side of her is audible.
The Interview and the story by Gerlinde Wallner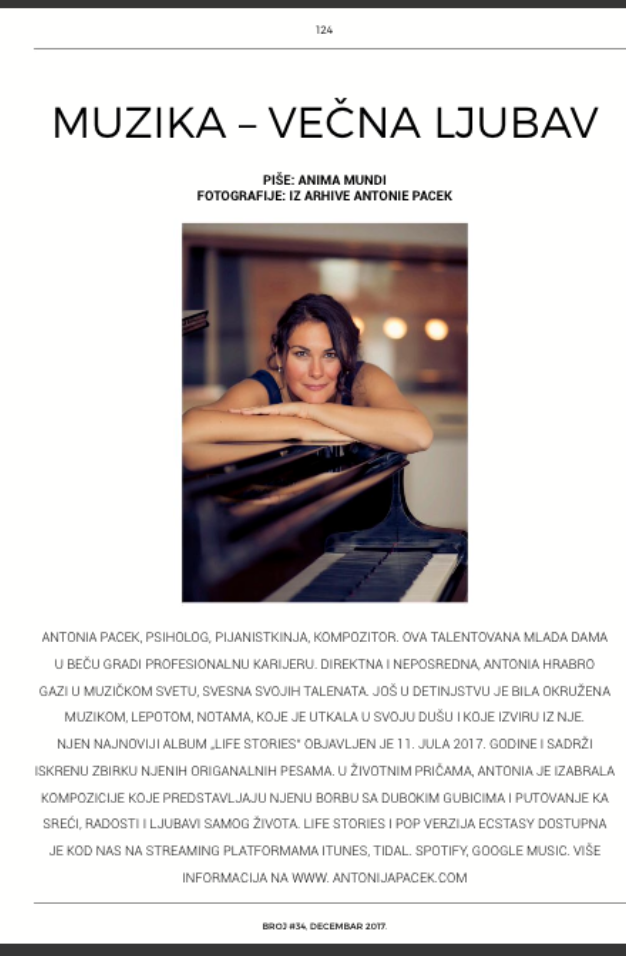 RYL Dec. 2017, Issue no. 34
Written by Anima Mundi
Photography from Antonija Pacek's archive
"Music – Infinite Love"
Antonija Pacek, a psychologist, pianist, composer. This talented young lady has been building her professional career in Vienna. Direct and immediate, Antonija courageously entered the world of music, aware of her talents. Already in her childhood, she was surrounded by music, beauty, notes, which she has interwoven into her soul, and this has been coming out of her soul.
Her newest album "Life Stories" was published on June 11th, 2017, and it is an honest collections of her original songs. In "Life Stories", Antonija chose compositions that signify her struggle with the deep losses as well as her travel toward happiness, joy and love of life itself.
"Life Stories" and the pop/dance version of the song "Ecstasy" is available on our market
on streaming and downloading platforms such as iTunes, Tidal, Spotify, Google Music.
Full article on: https://antonijapacek.com/ryl-dec-2017-issue-no-3/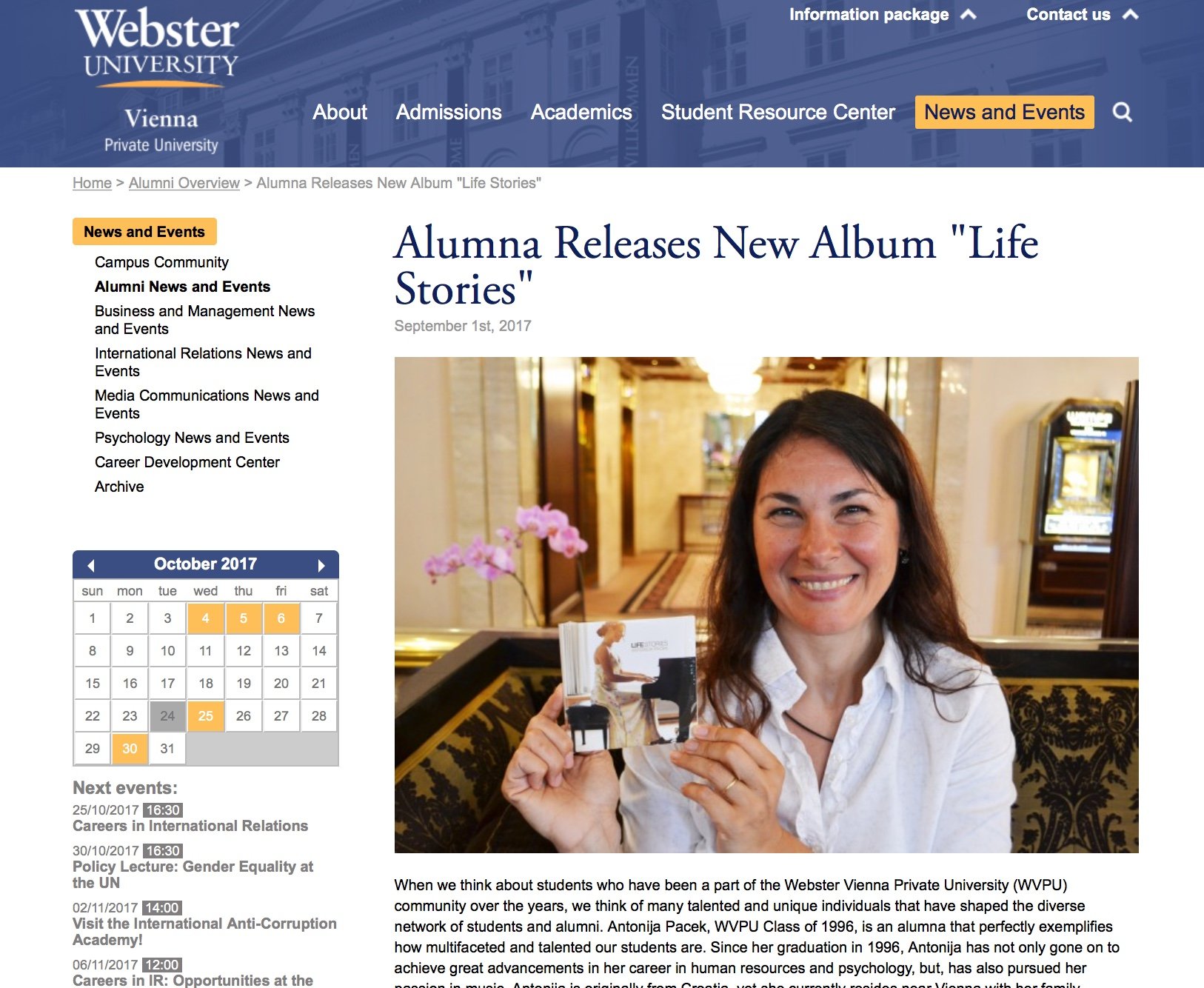 Webster University Website, from Sept 2017
This interview with Carna from Webster University offers an exclusive look into what went into the making of the album 'Life Stories'.
You find the full interview on the following pages:
http://webster.ac.at/article/alumna-album-life-stories
Mosaik, from Sept 2017
"The aim of my music is to move you."
Antonija Pacek, mother of three, originally comes from Croatia. After living for several years in Vienna, she eventually settled down in Oberwaltersdorf. Although the young mother studied psychology in Vienna and Cambridge, her passion is music. Already as a small child, she did everything possible to learn to play the piano. This Summer her second neoclassical album, Life Stories, has been released – a delight for the ear and food for the soul!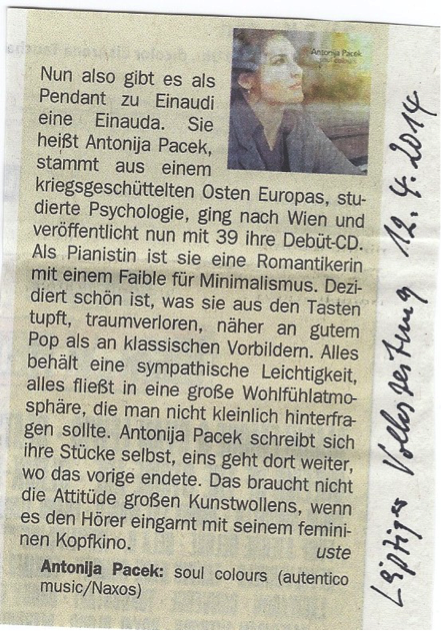 Leipziger Volkszeitung, from 12.4.2014
So now there is a counterpart, a female response to Einaudi. Her name is Antonija Pacek, who comes from an Eastern European war-shaken country, studied Psychology, went to Vienna and published her debut CD now at the age of 39. As a pianist, she is a romanticist with a soft spot for minimalism. The way she dabs the piano keys is particularly beautiful, dreamy, nearer to fine pop than classical paragons. Everything carries an appealing easiness, everything flows into the big atmosphere of sense of well-being, which one should not scrutinize in an undermining way. Antonija Pacek composes her piano pieces herself, one composition goes there farther where the previous finished. It does not require the attitude of those who appreciate complex compositions, because the music gets directly to listeners' hearts.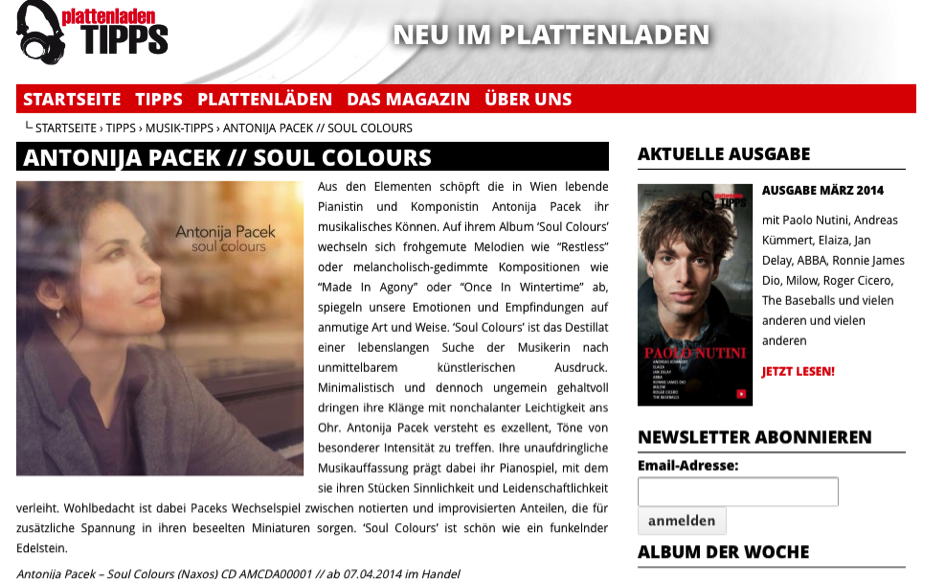 PlattenladennTipps, from 7. April 2014
Antonija Pacek//Soul Colours (New CD, Music Tips)
Vienna-based pianist and composer, Antonija Pacek, derives her music skills from the life elements. On her album 'Soul Colours' alternate buoyant melodies such as 'Restless', or melancholy-prone compositions such as 'Mady in Agony' or 'Once in a Wintertime'. The compositions mirror our emotions, sensations and sentiments in a graceful manner.
'Soul Colours' features the distillation of a lifelong search of the musician for immediate artistic expression. Her notes, minimalistic, and yet spaciously enriching, penetrate the ear with a nonchalant lightness. Antonija Pacek excellently understands how to strike the chords with special intensity. Her unobtrusive music concept characterizes her piano playing, by which she prompts her compositions with sensuality and passionation. Pacek considers well a balance between notated and improvised parts, which ensure an additional suspense for her soulful miniatures.
'Soul Colours' is beautiful like a radiant jewel.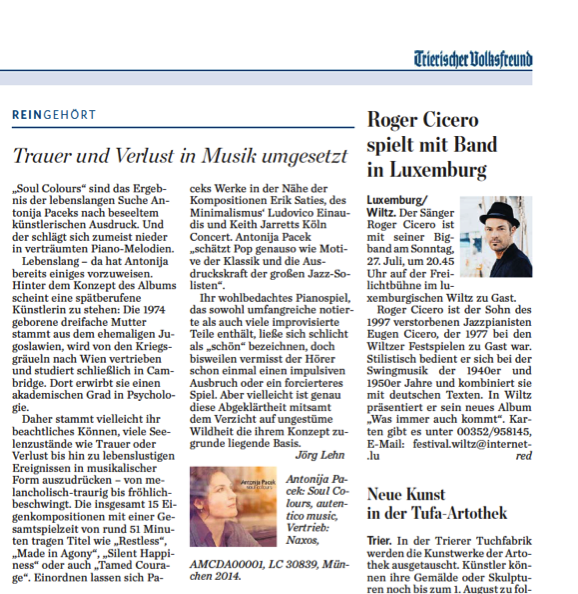 Trierischer Volksfreund, from 26./27. July 2014
Sorrow and Loss Transcribed in Music
'Soul Colours' is the result of Antonija Pacek's lifelong search for immediate and truthful expression of her soul. And it is reflected mostly in dreamy piano melodies. Lifelong—here Antonija has already some things to show.
An artist with a rather late-blooming career as a musician is standing behind the concept of the album: Born in 1974, mother of three children, came from Croatia, fleeing from the horrors of war to Vienna and studied finally in Cambridge (UK). There she received the academic degree in Psychology.
It is from her past where she derives her remarkable ability to musically express many states of soul such as sadness or loss all the way to love of life occurrences—from melancholic-sad to happy-lifting. The total of 15 self-composed pieces with about 51 minutes of playing time, the album consists of titles such as 'Restless', 'Made in Agony', 'Silent Happiness' or 'Tamed Courage'. Pacek's works of music can be placed near compositions of Erik Satie, near minimalism of Ludovico Einaudi and Keith Jarrett's The Köln/Cologne Concert. Antonija Pacek 'loves pop as much as classical melodies, digs the expressiveness of the great Jazz-soloists'. Her well-considered piano playing, which consist of comprehensive notated as well as many improvised parts, leaves the atmosphere quiet, but beautiful. However the listener might sometimes miss occasional impulsive eruption or forced playing. But maybe exactly this philosophy together with the abandonment of wild fierceness is the basis of her underlying concept.
Jörg Lehn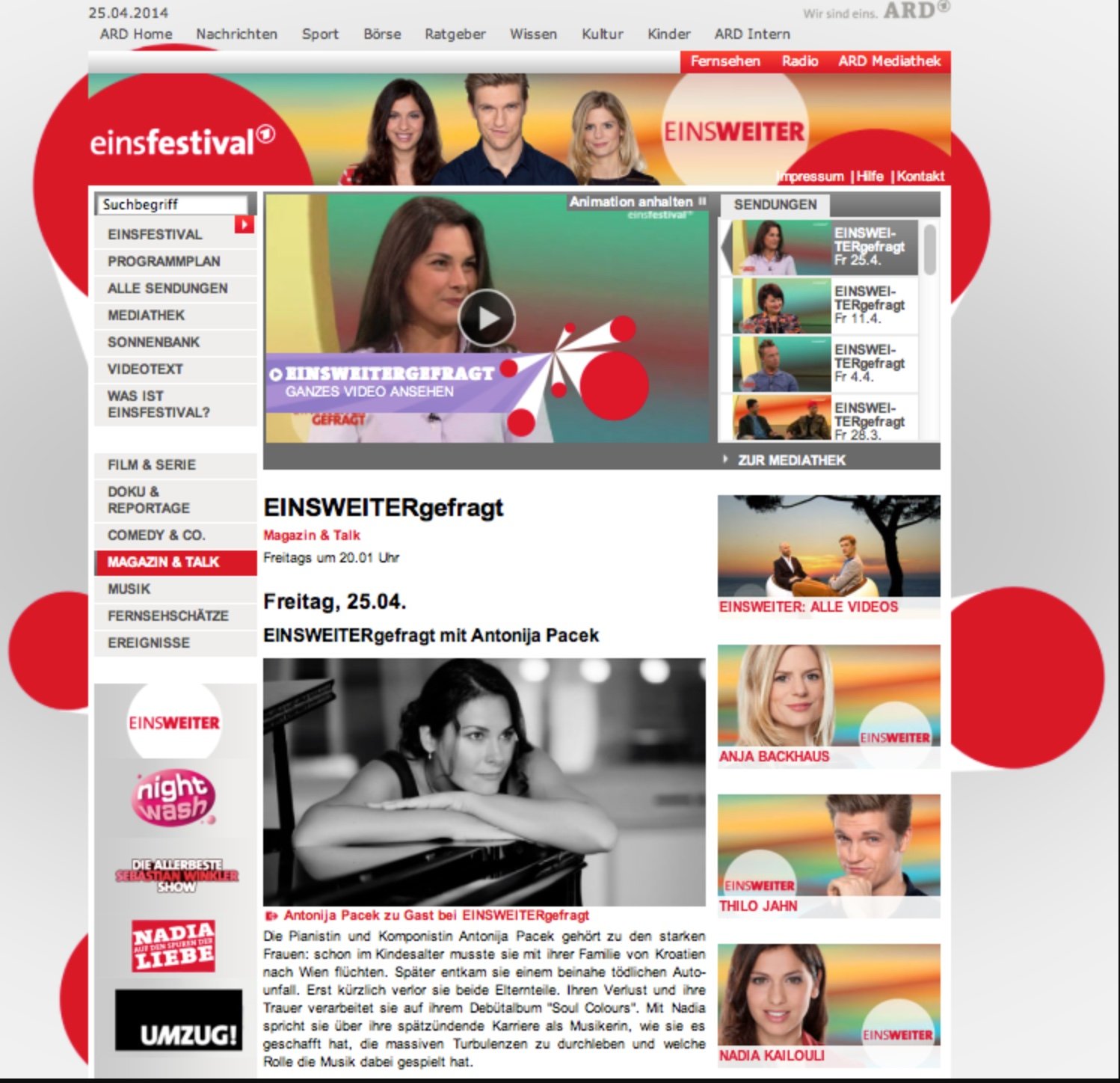 ARD, EINSWEITERgefragt from 25th April 2014
Antonija Pacek being interviewed about her new Album "Soul Colours" from "EINSWEITERgefrat" at TV Station ARD "Einsfestival".