Antonija's Stories
Here I'll share stories behind my music, pictures, upcoming concerts, or brief articles about my music. Follow my blog to stay updated about tour dates and new releases.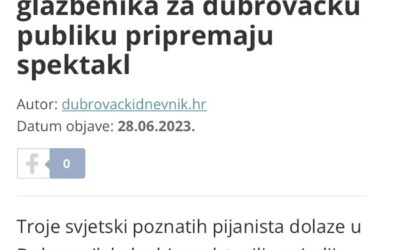 Thank you Dubrovnik Dnevnik.hr for publishing an article about Matthew's, Matej's and my concert on June 30th at Rector's Palace in Dubrovnik. The title reads, PIANO MANIACS TRIATHLON Three amazing musicians are preparing a spectacle for audience in Dubrovnik!
Three world renown musicians are coming to Dubrovnik to present a highly interesting project, very different and unique. Piano Maniacs Triathlon will take place on Friday, June 30th at the Rector's Palace, as it gathers three very good friends – Viennese musician Antonija Pacek, American classical music star Matthew Mayer and Croatian virtuoso Matej Mestrovic.