Antonija's Stories
Here I'll share stories behind my music, pictures, upcoming concerts, or brief articles about my music. Follow my blog to stay updated about tour dates and new releases.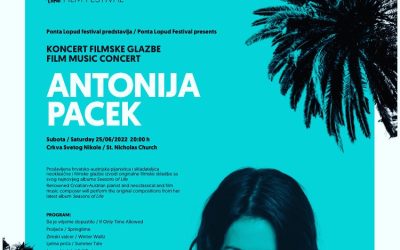 For the second year in a row, as part of its additional program, the Ponta Lopud Festival welcomes the celebrated Croatian-Austrian composer and pianist Antonija Pacek, who will give a film music concert in the church of St. Nicholas on Lopud on June 25, 2022 at 8 p.m.
On this particular occasion, Antonija will perform the original film compositions from her latest album, entitled Seasons of Life, which was released in March 2022 by Yellow Rose Records. Her music is described by critics as "close to meditation of angels, a symphony of emotions, and music as beautiful as a radiant jewel". As for her latest work, the music critics point out that her superb, intimate yet powerful new album brings a refreshingly unpredictable edge of creativity to the neoclassical realm.
The audience will enjoy the following compositions: "If Only Time Allowed", "Springtime", "Winter Waltz", "Summer Tale", "Fall Train", "Dreaming", and "Life Is". For her latest album, the artist found inspiration by drawing parallels between the four seasons and life during the pandemic. Thus, "Springtime" and "Winter Waltz" are interwoven with hope and strong feelings, a sense of uplift and awakening, and bring melodic notes of waltz full of fantasy and hope for a better future. "Summer Tale" is a cheerful composition inspired by the sea, summer feelings of carefreeness, inner peace, family gatherings in their summer house on Lopud, the island of eternal inspiration, where she will perform these compositions for the first time. The program will end with "Life Is", a composition that is her musical vision of life, its ups and downs, growth, learning, extremely beautiful and intense moments.